If That's Your Definition Of Islamist I Am An Islamist – Lord Ahmed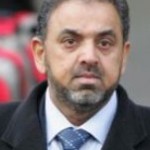 Yesterday MEMRI broke a rather large story. I saw this when it came through my email:
Britain's Lord Nazir Ahmed Offers £10 Million Bounty for Obama, Bush

During a recent visit to Pakistan, Lord Nazir Ahmed, a member of the British House of Lords who originally hails from Pakistani Kashmir, announced he was putting up a bounty of £10 million for the capture of U.S. President Barack Obama and his predecessor, George W. Bush. The announcement, made at a conference held in the Pakistani town of Haripur, came in response to a recent U.S. announcement offering a $10 million reward to anyone providing information leading to the capture of Hafiz Muhammad Saeed, founder of the Pakistani jihadi organization Lashkar-e-Taiba (LeT), and emir of LeT's charity arm, Jamaatud Dawa.[1]
As ever, all MEMRI has done is find something that another one of the west's fifth column infiltrators and destroyers says when he thinks nobody is paying attention. Well we've got news for you "Lord" Ahmed: you're not the only one in the world who reads the Pakistani press.
This is the same Killer Lord Ahmed who was convicted of causing death by dangerous driving (he was probably texting when he drove into a stationary broken down car and killed a man). The circumstances around how he wriggled out of a conviction for dangerous driving and was then released very early from his prison sentence smack of political string pulling.
It was also Lord Ahmed that called for 10,000 Muslims (a highly significant number from the Koran) to march on the Houses of Parliament if Geert Wilders was allowed into the UK. It's likely that his threats of violence caused the Home Secretary to block Wilders entry (which was later found to have been unlawful). Geert returned to the UK successfully a few months later.
He is also the same Lord Ahmed who I personally invited to a lunch time talk given by Bat Ye'or at the House of Lords in 2007! I personally printed envelopes and stuffed invitations to every member of the House of Lords and the House of Commons. I also invited a fair few of the media. We had a pretty good turn out for these kinds of events, maybe 50 or 60 and among the audience, much to everyones surprise was Lord Ahmed.
He sat and listened to Bat Ye'or's presentation of her Eurabia thesis and at the end his arm went up to ask a question. The moderator (Edward Leigh MP whose office had invited Bat Ye'or to speak) called on him.
He gave a breathless and largely incoherent admonishment to Bat Ye'or: told her that everything she had said was rubbish (without refuting any facts) but he ended with something very clear:
"If that is your definition of an Islamist, madam, I am an Islamist." – Lord Ahmed of Rotherham
And then he got up and left.
Her definition of an Islamist was pretty much the same one we use today: someone seeking to take over and rule the world, in this case using the political part of Islam's political military complex.
So I think we should probably take him seriously when he puts a bounty on the head of the sitting and former presidents of the US and, in my opinion, ask Muslims world wide to go and kill them. Are you paying attention over there in the Secret Service? That's a credible threat against the life of not one, but two of your presidents.
Original Invitation to the event: EURABIA-London-MPs-23 Jan – author.2007