Apparently Madonna's recent Tel Aviv concert contained more than singing and preaching about peace.
Like montages with Madonna looking like Adolf Hitler and sporting a swastika on her forehead.
Madonna used Nazi imagery, including swastikas and Adolf Hitler, during a video interlude at her concert in Israel on Thursday.

The visuals were among a series of symbols, photos and clips projected on screens to accompany the singer's song "Nobody Knows Me."

At one moment in the montage, Madonna is wearing Hitler's mustache and a swastika on her forehead.

Also seen are the Iron Crosses used in Nazi Germany.

The Nazi section comes amid a flurry of other images of violence, war, political protests, and other highly-charged visuals.

However, the decision to put Nazi imagery — on giant screens – in Israel is sparking controversy, with many commentators saying it should not have been included, regardless of the context or message.
Given this is the first I heard about it, I am guessing Israelis were not generally offended by this.
And I'm sure she had a point.
Or two.
Update: Some were offended by the Nazi imagery.
Meanwhile, France's far-right party Front National said it plans to sue Madonna for displaying an image of party leader Marine Le Pen with a swastika on her forehead, Radio France Internationale reported Saturday. The image appeared on a backdrop behind Madonna as she sang "Nobody Knows Me" at the Tel Aviv concert.

"We'll make money with the case we're going to bring," a party source, whose name was not reported, told French newspaper 20 Minutes.
Let's examine the claim. I took the following sequential screenshots from the video: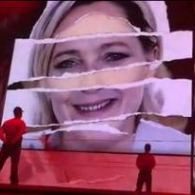 And here's a photo of Marine Le Pen:
The swastika seems to be on Madonna's forehead, but she then seems to morph into someone who looks a lot like Marine Le Pen.
Hmmm..