What's Cookin' In Israel? Not Apartheid Apparently
Meet the finalists of the Israeli version of MasterChef (hat tip: Michael Dickson).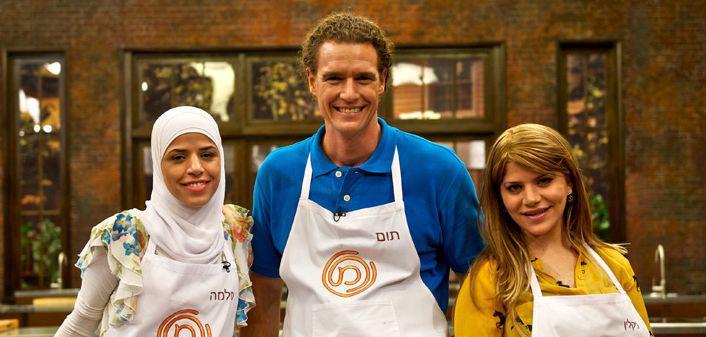 [source]

That's Salma (an Arab-Israeli) Tom (a German convert to Judaism) and Jackie, an Orthodox Jewish woman.

If that's not enough to give the Israel-haters and BDSHoles an aneurysm, here's an article from late last year that deals with the friendship between Salma and Elinor Rahamim, one of the other contestants and a Jewish "settler" from Tekoah (translation taken from here)
Contrary to early expectations, the closest friendship among the competitors of this season's Israel's Master Chef was formed between Elinor Rahamim, a Jewish settler from Tekoah (Gush Etzion) – an Israeli settlement in the northern Judean hills in the West Bank and Salma Fayumi, a Muslim nurse from Kfar Qasm.This unique combination didn't surprise these two female cooks: "I guess we've disappointed all those who were expecting action and quarrels. The good bond between us was formed because we think alike about people".

This friendship was formed on the set of this season's Master Chef – Israel. Among pots and pans, Salma and Elinor discovered that two women coming from opposing sides of the Israeli society, had more than a few things in common.
"On the set, I didn't see a difference between Salma and the other female competitors" says Elinor "but on the screen, when I saw how the photographers captured Salma and I on the same shoot, I realized how big this connection was".
"I don't judge people by looks" says Salma "Some people radiate goodness and you fall in love with them right away. Lots of people noticed my connection to Elinor because they thought we had similar personalities".

"When I met Salma" Elinor continues, "I saw a wonderful person. I didn't see a flag, I saw a person and the same thing applies to my friendship with Maya, the Jewish vegan competitor who holds left-wing viewpoints and opposes the fact that I live in a settlement in Gush Etzion, in the northern Judean hills in the West Bank. Every person has strong beliefs and viewpoints that lead him/her throughout life but those beliefs don't affect who they are as human beings".

"I'm not representing anyone" says Salma
Elinor: "Do people in your village say anything about the fact that you have a friend who's a settler?"
Salma: "No one said anything"
Elinor: "People gently told me "we saw you hugging Salma"
Salma: When I entered the show, I didn't think I would become friends with the Jewish religious competitor"
Elinor: "Neither did I. There are Arabs from your village who work in our settlement so I've had some interactions with Arabs before but never did I have a female…Arab friend?"
Salma: "Indeed, I'm Arab, aren't I?"
Elinor: "Or should I say "Muslim?"
Salma: "A Muslim Arab"
Elinor: "Ok, so I've never had such a relationship with a Muslim Arab woman"

Elinor works at the Mushroom Farm in Tekoa and Salma is a nurse and a Research Coordinator of clinical trials on Altzheimer's.

The two young women provide the required recipe needed to bring peace and love between Jews and Arabs but their relationship also provides a glimpse into the deep conflict, the prejudice and the fear that lie between us. For example, when we wanted this interview to take place in one of their houses, it didn't work out.

"I'm really sorry I didn't want to come to your house" Elinor says to Salma "but I'm scared. I have this deep fear inside of me. I know Salma and I trust her completely but I don't want to come to a place where everybody's going to stare at me.

Salma didn't want to go to Elinor's house either because she was afraid of the Jewish settlers. "What am I going to do in a settlement? How will I be looked at? On the other hand, if Elinor comes to my village, I'm sure nothing bad will happen to her. People in our village respect Jews but she thinks it's scary and I am scared of going to Tekoa"
The compromise for the meeting was a Kosher Café in Tel Aviv.

"Here, in Tel Aviv, it is more acceptable. Tel Aviv is more open to these things" Elinor says.
"I said that it would be better if we met somewhere in the middle, at this point, but it doesn't mean I will never come to visit Elinor in Tekoa" Salma adds. "My husband knows Rabbi Froman, the Rabbi of the settlement Tekoa and loves him"

Elinor: "Salma, wouldn't you like to live in a Palestinian country?"

Salma: "I would like to live in a country that makes me feel like I belong, that doesn't prevent me from serving in its military because I'm Arab, but, right now, when I see what goes on in Arab countries – I don't think I would like to live anywhere else. There's more order here than what we see in other places around the world. We feel good here. I have a life, work, people I know and love.

I would love it if this friendship with Elinor will cause people to think that there's another way but I'm also realistic and I understand that this friendship won't bring peace".

Elinor: "we want to live in peace, without sirens, without wars. And it all begins with the common people"
The war between Israel and Gaza posed a first obstacle in this new friendship but even the rockets fired from both sides a week and half ago didn't shake their peaceful viewpoints.

"It wasn't Salma who fired those rockets from Gaza" says Elinor

"I heard some responses from people living in Gaza who said they didn't want to be a part of all this war"
Update: Tom's involvement in the show has made the German media.
Update: In last night's final, Tom won, followed by Salma in second place and then Jackie the Jewish woman.
I wonder how many of the Israel-haters will claim Salma did not WIN because of apartheid!