Book Title: Cook In Israel: Home Cooking Inspiration
Author: Orly Ziv
ISBN: 9659207107 –978
Publisher: Orly Ziv (2013)
I knew I loved this cookbook, Cook In Israel, by Orly Ziv, the minute I removed the wrapping and held it in my hands. The cover is a pleasure to look at with colorful but recognizable dishes against an off-white background: shakshouka; cabbage and craisin salad; and a basil, cherry tomato, and Bulgarian cheese salad. The colors were just so striking and the food, while tempting, looked absolutely NORMAL. Not fussy food, just beautiful and delicious home cooking.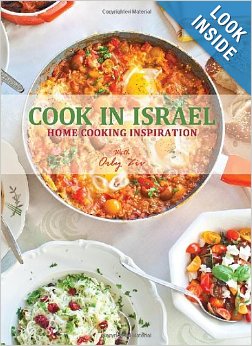 Full disclosure: I'm a cookbook collector. I read cookbooks for sport. I read them more than I cook from them. I am lucky if I find one or two useable recipes in a single cookbook.
I have a feeling this won't be the case with Orly Ziv's cookbook, because so many of the recipes cry out from the pages, "Try me, try me!"
And so I did. I tried two salad recipes for Shabbat, a raw beet and green apple salad with a silan dressing, silan being the local Israeli date molasses; and a carrot and candied pecan salad. I was intrigued with the idea of using beets in their natural uncooked state and I love silan and use it in my sourdough challoh instead of honey or sugar.
Unfortunately, I didn't care for the beet salad, nor did my family. But the carrot salad was yummy. I never would have come up with that particular combination and it worked. That salad was a revelation.
The thing about Ziv's book is that she offers the cook lots of leeway to experiment with amounts and ingredients. It could be I would like that beet salad a little sweeter, with more silan and less acid from the vinegar. I think I would also prefer a higher ratio of apple to beet. It may be worth experimenting with this recipe in the future.
I liked that Ziv includes in her book ingredients that are easy to find in Israel and that the recipes are easy to prepare. Ziv uses local items in new and interesting ways, yet nothing is too complicated for the novice.
I also like that her writer's voice really comes out and engages the reader. You feel she's your partner, your friend; giving you confidence, and guiding you along the way. You like her.
This would be a good cookbook for a new cook, a new couple, or even a young person being groomed for independence, which dovetails nicely with my work at Kars4Kids. We put great stock in teaching life skills like cooking to our young mentees. The recipes in Ziv's book are nutritious, which can help teach teens about healthful eating.
Mostly Vegetarian
Ziv's book is mostly vegetarian, since she rarely eats meat and eats no chicken at all. That's fine with me, because Israeli cuisine is all about salads and she offers tons of new and interesting salads to try. The recipes and the ingredients they employ, excite me. Which is NICE.
I spoke to Orly Ziv this morning.
V: What were your biggest challenges in creating your cookbook?
Orly Ziv: Collecting the recipes and offering up a melting pot of recipes in the book. It was a mixture of what I really like and wanted to put in and recipes that I teach my cooking classes. I wanted to offer my experience, that's the purpose of the tips that are spread throughout the book. I wanted to give new tips to perhaps inspire people to do things differently.
V: The photos were impressive, considering your explanation that no fancy styling was used in their creation. What was your intention there? What is it you want those photos to say?
Orly Ziv: First of all it was very, very important to me that each recipe will have a photo. Because some of the cookbooks don't have photos next to the recipes, while some refer you to a different page in the book. I felt this was important, that they won't know how it looks when it's finished and the photos will tell them how tasty and delicious it can be and colorful, so the photo was very important.
Secondly, I insisted that some of the recipes that were a little more complicated be shown step by step. There's a famous saying that a picture is worth a thousand words. It's part of the enjoyment of having a cookbook: the photos. I don't like cookbooks without photos.
Also the book is not complicated so everyone can make [the recipes]. The photos will inspire you to do things a bit different in your home—to use new things, new flavors. It's all about inspiration. It's what we're looking for. I read lots of recipes every day. I don't always use the recipes—I need the inspiration. So the photos are for that.
Carrot and Pecan Salad
Ziv calls this a make-ahead salad and says the flavors improve on standing, but I suggest holding back the chopped candied pecans and adding them just before serving, so they don't get soggy and lose their crunch.
Ingredients:
4-5 carrots, peeled
1 bunch chives or spring onions, chopped
1 cup sweet pecans, roughly chopped*
3 Tbs. canola oil
¼ cup vinegar (white or red wine, white balsamic, or apple cider are all good choices)
1 Tbs. mustard
2 Tbs. demerara or brown sugar
1 clove garlic, minced (optional)
Method:
1. Grate the carrots on the medium side of a box grater and put them in a salad bowl. Add the chives and pecans.
2. In a separate bowl, whisk together the canola oil, vinegar, mustard, sugar, and garlic, if using.
3. Pour the dressing over the salad and toss until fully coated.
4. Serve immediately or store in a covered container in the fridge until ready to eat.
*In Hebrew: "pecan sini"
Please help ensure Israellycool can keep going,
by donating one time or monthly