Exclusive Interview With Shmuel Waldman, Plaintiff in PLO Terror Trial
Yesterday was a day of tremendous joy. That was when we got the amazing news of the landmark victory by ten American families against the PLO and the PA. A U.S. court slammed the PA and PLO with a judgment of $655.5m for wrongful death damages incurred in terror attacks.  According to the Jerusalem Post, this figure represents a tripling penalty of the $218.5m verdict, arrived at according to the anti-terrorism laws that govern the case.

But while my friends and I were exchanging ecstatic mazal tovs online, the reaction of at least one of the plaintiffs, Shmuel Waldman, was more subdued. Waldman had his leg blown apart in a shooting in Jerusalem in 2002. The shooting not only shattered his tibia but left him with "difficulties in every area of his life."

Shmuel and his Israeli-born wife Henna had been married just six months at the time their lives were changed forever by terror. They were just young people in their 20's, full of hope and optimism, excited at the prospect of living, learning, and raising a family in Eretz HaKodesh [the Holy Land].

When the opportunity to interview Waldman came up, I knew only that he was a plaintiff in the trial. Rather than read someone else's take on the story, I had Shmuel tell it to me in his own words.

What emerged was a picture of a fellow Jew who loved Eretz Yisroel with all his heart, who had confronted death and beaten it, but not without a cost: first and foremost, his ability to stay in Israel. That is the part of this interview that grabs at the heartstrings: the realization that winning a judgment like this is not a bit like winning the lottery.

That's because no one would choose money over leading a normal life, one that is untouched by terror. There is no amount of money that can change what happened to Shmuel Waldman, and money cannot purchase his peace of mind.

VE: All I know about you is that you're a plaintiff in this trial. That means that you suffered some sort of trauma as the result of terror. Can you tell us what happened?

Shmuel Waldman: I was injured in the January 22, 2002 terror attack in Yerushalayim [Jerusalem]. I was boarding a bus when Said Ramadan, a PA police officer, came up behind me and and started shooting everyone in sight. I sustained two gunshots to my right shin.

VE: How did you end up joining this lawsuit?

Shmuel Waldman: I was approached by Shayna Gould who was injured in the same attack. She is the one who told me about this lawsuit. The lawsuit was actually named the Sokolow v. Palestine Liberation Organization (PLO). The Sokolow family was hurt seven days after the attack in which I was wounded, also in Yerushalayim.

VE: How much time did you spend in the courtroom? Did you give testimony?

Shmuel Waldman: I was in court three times. I was there for opening statements, then I came for my testimony, and I was also there for closing arguments. The testimonies were very emotionally driven and therefore my lawyer requested that we not come there too often.

VE: How did you feel about being a part of this trial?

Shmuel Waldman: This trial has been very emotionally draining for me. You have to relive the story. I am very happy that we're able to get to this stage.

VE: Do you think you'll ever see any of the money?

Shmuel Waldman: I definitely hope that I will be able to see some money, one day. I do know that the Palestinian Authority continues to distribute $4.25 million to these terrorist families every single month. So there is money over there.

VE: Are you satisfied at having your "day" in court?

Shmuel Waldman: The "day in court" means that they have to own up to what they did. It doesn't change too much but it definitely makes me feel good knowing that they got their smack that they deserve.

VE: How do you think this judgment will affect the PA's standing with the International Criminal Court (ICC)?

Shmuel Waldman: I think that the Palestinian Authority will have a very difficult time convincing the International Criminal Court that they're worthy of joining after this verdict. But it's more important that the world should see that you cannot gain anything through terror.

VE: Why was this case so important and what are the implications going forward?

Shmuel Waldman: I don't know. I don't know if it's going to change too much of how the world looks at the Palestinian Authority. But I definitely think that the verdict lets the world know that they are not some fun-loving humanitarian people just trying to get back land.

[caption id="attachment_26500" align="aligncenter" width="620"]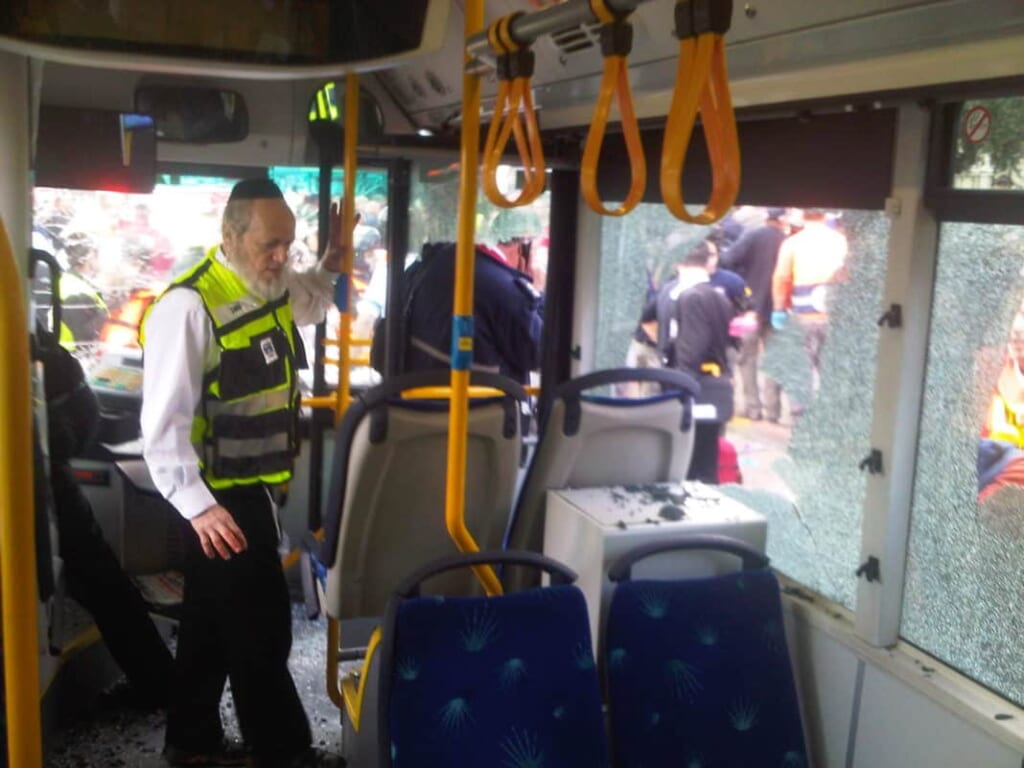 Jerusalem terror attack[/caption]

VE: Tell me about the aftermath of the attack. You ended up in the States. Were you able to make a living?

Shmuel Waldman: When I came to America in 2004, I started my own business. It was a business that was working out well at the beginning but then eventually my medical complications made it impossible for me to be able to run the business properly. I had some complications which forced me to undergo more surgeries. So I gave up my business, gave it to my brother, and I started working at Oorah, a Jewish nonprofit organization, as Assistant Facility Manager.

VE: Is this what you would be doing if it hadn't been for the attack?

Shmuel Waldman: No. I would probably be in Ramat Beit Shemesh. As much as I love working in Oorah I still would have loved to be back in Ramat Beit Shemesh

When I lived in Eretz Yisroel I was very involved with teens at risk. During the second intifada I lost 6 boys that I was helping, in terror attacks that happened in downtown Yerushalayim. There is nothing that I would have loved more than to be back in Ramat Beit Shemesh and working with them.

I left due to emotional stress and PTSD. It is an issue that I still deal with. So winning the money won't help with that issue, however my wife and I know that B"H [Thank God] when our youngest reaches high school, we want to move back to Ramat Beit Shemesh

VE: May I ask how many children you have? Your wife Henna must miss her family in Israel.

Shmuel Waldman: We have five kids, B"H. She misses her family a lot. They all live in Eretz Yisroel.

VE: How do your injuries affect you today (emotionally, physically, work-wise)?

Shmuel Waldman: In short? The issues are much more than what is seen by the eye. I once told someone that the Torah says ??? ????? ???? ??????? . [Eretz Yisroel is acquired through hardships]. I got the ??????  [hardships] but I wasn't ????  to be ???? [I didn't merit the acquisition].

VE: There was an account of your story on Aish.com, No Bullet Can Penetrate, which concludes, "Shmuel and his wife have no intention of leaving [Israel]."  What did finally make you leave? Would you go back? Do you want to go back?

Shmuel Waldman: My wife was born in Eretz Yisroel and it was really our intention when we married to stay in Eretz Yisroel. Since I was a young kid it was always my dream to be able to live in Eretz Yisroel. When I was hurt in the terror attack I became even more determined to live there. However emotionally, it was too hard for me.

I have to say that when the plane took off and I saw Lod in the background I started crying. Because at that point it hit me that the terrorist had got what he wanted. He wanted to scare Jews away [from Eretz Yisroel].

I would love to be able to one day move back to Eretz Yisroel. But for now, Hashem wants me here [in the U.S.], unfortunately.