Belgium's Proximus Welcomes Visitors To Israel To 'Palestine'
I think most of us are already accustomed to reports of certain companies omitting 'Israel' on their websites, and instead having references to 'Palestine.' In such cases, there is of course huge insult, but that insult arrives only after one searches the website.
An even worse level of insult is when it is pushed to you, as happened to someone from Belgium – with the mobile service provider Proximus – who arrived in Israel and had this appear on her phone:
You needn't speak Dutch to see that Proximus' message is welcoming her to 'Palestine.'
Someone else with Proximus who had previously arrived in Israel received the following French version of the message, which does refer to Israel.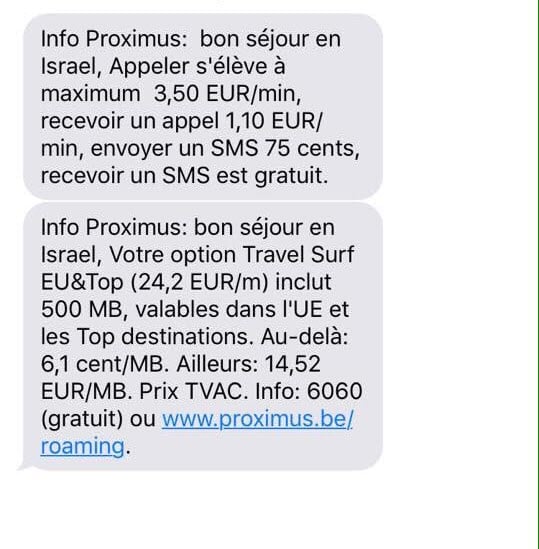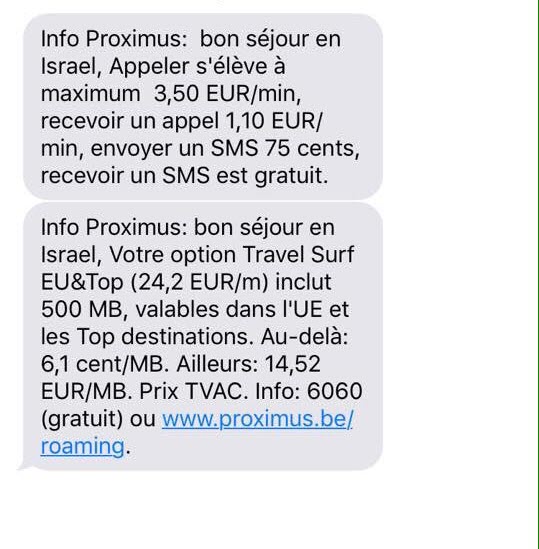 Which begs the question: is this all just an honest mistake or something else?
Either way, it is upsetting.
I'll post an update if I can get to the bottom of it.
Hat tip: Jethrosteve
Update: Proximus claim these are automatically generated messages. "Presumably there is a error in the recognition of the roaming network." I have asked them to investigate and ensure it does not happen again.