Woman From Heartwarming Viral "Muslim & Jew" Story Not All She's Cracked Up To Be
There's a heartwarming story going around, one that has gone viral. A story of a Jewish man showing kindness towards a Muslim woman, who subsequently posted her experience on Facebook.
https://www.facebook.com/photo.php?fbid=10100900184415040&set=a.989178536150.1073741825.2907232&type=3
So this happened today at Barnes & Noble: I went to take the kids to meet the Paw Patrol characters and this nice man approached me, told me how beautiful the girls are, and conveyed a heartfelt apology for the general anti-Muslim sentiment in our society today. He had tears in his eyes and told me that it must be so hard to turn on the news, that he feels awful about the bigotry my kids might oneday experience, and that as a Jewish man whose parents didn't speak any English growing up, he personally understands what it feels like to be rejected and discriminated against. I asked if I could give him a hug (he looked like he needed one more than me, but I guess I needed one too) and he wanted to reassure me that most Americans are decent people who don't hate people like me or believe what they hear on the news. He then told me he's turning 90 on Friday and insisted on buying each of the kids a present as a gift for himself and so they can have something to remember him by. I told him we should just take a picture instead so I can tell them the story one day (he accepted) but insisted on buying them gifts anyway afterwards.

After the experience I told my friend Jes and we both laughed about how it sounded like one of those heartwarming Facebook stories about random acts of kindness and that it even sounded a little too on-the-nose. She suggested I share it to add to what I guess is our modern day chicken soup for the anti-racist soul. I said people will probably think my account got hacked because it's not nearly cynical enough but here's a picture and it happened. And if you don't believe me, 💩.

Oh, and happy birthday, Lenny! 🎈
❤️, Leena
Needless to say, it has been picked up by the mainstream media.
Now I hate to deflate Lenny's birthday balloon – and everyone else's – but there is more to this story.
You see, Leena happens to be the daughter of Sami Al-Arian, who was convicted of aiding and abetting Islamic Jihad. Here he is in action pledging the Muslim Brotherhood.
Ok, so why make her bear the sins of her father, I hear you ask. It turns out Leena has expressed vile antisemitic and pro-terrorist views herself.
For the vast majority of the hour-long flick, viewers are treated to a portrayal of a very somber Al-Arian family. One of the sad faces is Al-Arian's daughter, Leena. Leena is very much like her father, an activist, involved in the radical Muslim Students Association (MSA). She was Vice President of the MSA at the University of South Florida (USF). The group's website still has her listed as being as such.

While she was at USF, Leena Al-Arian had a weblog that she created with her friend, Sarah, called Drunk but Sober. The blog contains links to such pro-terror sites as Electronic Intifada, Al-Aqsa Intifada, and Islam Online, which sanctions terrorist attacks, including suicide bombings, against Israelis and Americans.

In the blog, Leena refers to former White House Press Secretary Ari Fleisher as a "bitch," President Bush as "Satan," and one of her father's prison guards as a "sick Fu**er, power-hungry, army reject." Additional quotes from the blog include:

"Leena and I have decided to finally get over our indolence and start blogging again. All it takes is a good caffeine source like Starf*cks for some blog-motivation at this hour. Unfortunately, it's my second Starf*cks today. I really do feel guilty every time I purchase an item. Unfortunately Leena's come to the realization that 'we're such [Zionist] Yahoodi [Jew] supporters.'" (Sarah, March 29, 2004)
"Anyway, Sarah came over today and we worked on our Palestine powerpoint presentation… Since I cannot actively join in their struggle (at the moment), I only pray that Allah (SWT) may continue to give them… the strength to resist. And still, there are more fights to be fought, more struggles to overcome, more truth to proclaim, and more people to damn-eh, just kidding (well, not really)." (Leena, March 29, 2004)
"I know Western media is garbage, but I honestly thought this paper [St. Petersburg Times] had a little more integrity than that). I think this is just complete and utter bullshit propaganda once again unleashed by the Israeli government (and American media) to vilify and dehumanize the Palestinians, and justify the murder of innocent children (as well as extra-judicial assassinations of certain unnamed wheelchair-bound individuals [Hamas spiritual leader Ahmed Yassin] for that matter)." (Leena, March 29, 2004)
"[M]y hatred for these two people [Condoleezza Rice and Ariel Sharon] has grown considerably in this past week alone… Inshallah, they will one day be joined together, in a Next Liiiiifetiiiiiime… I think we all can reach a consensus as to where they will probably reunite, and boy, oh boy, it will be HOT IN HERRE!;) I hope Condi likes the taste of smoked ham." (Leena, March 29, 2004)
"I am just so tired of reading blatantly biased writings on the Holocaust… [T]he thought of sitting through that nauseating three-hour class makes me want to put a bullet through my head. I am sick of the likes of propagandists such as Elie Wiesel, Rubenstein, and others who continue to exploit the tragedy of the Holocaust to justify the continued, unjustifiable suffering of the Palestinians." (Leena, March 2, 2004)
Not surprisingly, she is a Jill Stein supporter.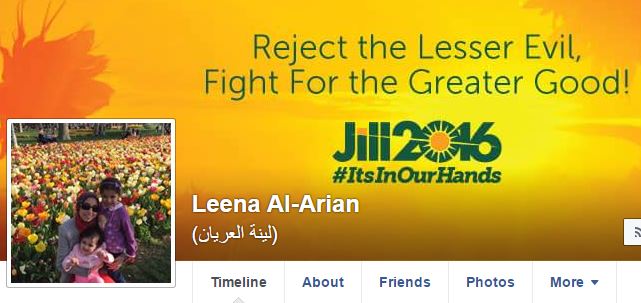 Does this all mean Lenny was wrong to treat her as kindly as he did? Of course not! But it also does not mean we should hide the truth about this woman.
And I highly doubt the same media that reported the original story will now report this latest development.
Thanks to Binyamin Arazi for the story tip.