Mainstream Media Parrots Latest Pallywood Water Libel
Yesterday, I posted about the latest pallywood "water" blood libel –  the water tower in Beit Hanoun, Gaza, which was damaged at least last year, and possibly earlier, which they are now claiming we deliberately damaged only yesterday.
I pointed out various tweets of the haters making this claim, but now I see the mainstream media has joined in on the act.
For instance, Reuters:
Palestinian militants in the Gaza Strip launched a rocket that landed in the Israeli border town of Sderot on Sunday and Israeli aircraft and tanks responded by shelling the Gaza town of Beit Hanoun, the army and police said.

The rocket caused no injuries or damage in Sderot, where it landed in a residential area, police said.

An Israeli shell during an initial retaliation damaged a Beit Hanoun water tower and there were no casualties, local residents said.
And this AFP photo and caption (reproduced by the Times of Israel)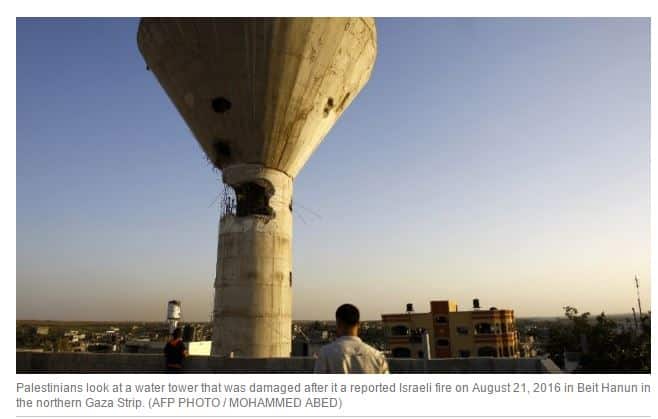 You have to ask yourselves: why is it that bloggers like me can very easily poke holes in the palestinian narrative, yet the mainstream media can't?
Actually, the mainstream media can. They just won't.
They certainly have the means to do due diligence – heck, they have way more resources than little ol' me. They are more than willing accomplices for the palestinians and their supporters who are constantly spreading lies and disinformation.
It is journalism at its most lethal.