WATCH: Shirley Temper Strikes Patient IDF Soldiers
Everyone's favorite Pallywood child star was recently caught in action again, trying to entrap IDF soldiers into providing some great footage – by getting right into their faces and even striking them. She was joined by at least one other child and adults – who all seem to be part of the infamous Tamimi clan.
Unfortunately for her and her fellow instigators,  the soldiers displayed great patience, and did not fall in to the trap.
https://www.facebook.com/QudsN/videos/1541354559274773/
I have to again emphasize she and her fellow child actors have been exploited and encouraged by their own parents, who have no compunctions about putting them in potential harm's way – all for the potential propaganda value.
Note her own father Bassem Tamimi (blue shirt below) with camera in hand, trying to get a good shot. As well as a number of others.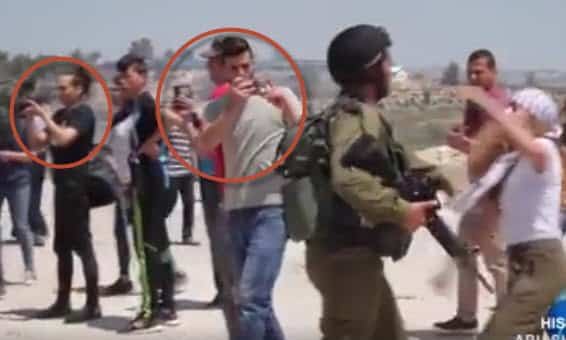 The parents should be charged with child abuse, found guilty and then imprisoned, where they can go on hunger strike only to sneakily eat snacks when they think no-one is looking.