Chicago Dykes Get Their Jew Hatred On (Updated)
Bigotry comes in many shades. Heck, it can come rainbow-colored.
Participants of the 21st annual Chicago Dyke March, a parade geared towards members of the city's lesbian community, found themselves on Saturday at the center of controversy.

The Dyke March was founded by a collective that billed the event as more inclusive and social justice-oriented than the more well-known and mainstream Chicago Pride Parade.

However, three Jewish members of the collective were not to be included in Saturday's festivities.

Jewish Pride flags — with a Star of David in the center of the rainbow flag — are a common sight at Pride events around the world, so the members were likely not trying to cause a scene when they brought them to the march.

According to a report in The Windy City Times, the three members were told to leave the parade because the flags "made people feel unsafe" and that the Dyke March was a "anti-Zionist, pro-Palestinian" space.

The expelled Jewish members said that "there's nothing offensive about this flag. It's a statement of Jewish identity."

"It was a flag from my congregation which celebrates my queer, Jewish identity which I have done for over a decade marching in the Dyke March with the same flag," Laurel Grauer, one of the participants, told the publication.

Grauer, who was asked by other marchers if she was a Zionist while holding the flag, further stated, "It's hard to swallow the idea of inclusion when you are excluding people from that. People are saying 'You can be gay but not in this way.' We do not feel welcomed. We do not feel included."

"I was here as a proud Jew in all of my identities," Eleanor Shoshany-Anderson, another participant who was kicked out, said. "The Dyke March is supposed to be intersectional. I don't know why my identity is excluded from that. I feel that, as a Jew, I am not welcome here."
This has the fingerprints of Linda Sarsour all over it – she who claimed you cannot be a Zionist and a feminist. These dykes are saying you cannot be a Zionist and part of their movement.
Except what they are really saying is you cannot be a proud Jew and part of their movement. – the Star of David is a Jewish symbol, not just a symbol of Israel, after all. Which makes them antisemites.
Actually, I will invoke Sarsour's (hypocritical) words in constructing a message to these women.
Update: Plenty of palestinian flags there.
Note this sign: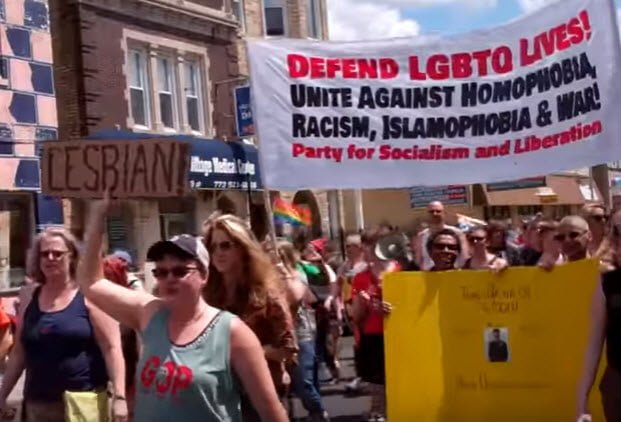 I guess antisemitism doesn't count.