Richard Silverstein to Parents of Girl Murdered by Terrorist: "Deal With It"
On August 9, 2001, Ahlam Tamimi (cousin of Ahed "Shirley Temper" Tamimi) led suicide bomber Izz al-Din Shuheil al-Masri to the Sbarro restaurant in Jerusalem. Al-Masri detonated his bomb, murdering 13 Israelis, and injuring another 130.
One of those murdered was 15-year-old Malki Roth. Her parents Arnold and Frimet have been fighting to bring Tamimi, living freely in Jordan, brought to justice ever since.
So when comedienne Sarah Silverman tweeted this yesterday
The Roths took her to task, pointing out her hypocrisy
Entertainers exploiting their fame are often a poor choice for clarifying what's moral or good. Sarah, did you stand up for our daughter Malki and the other 15 Jewish lives extinguished by Ahlam Tamimi, Ahed's cousin and role-model-in-life? Do you stand with Ahed's call to kill? pic.twitter.com/HOjgGp5IWQ

— This Ongoing War (@ThisOngoingWar) February 16, 2018
On the off chance, @SarahKSilverman, that the name Malki Roth doesn't ring a bell, here's one of the few photos we have. She's holding the blind and catastrophically disabled sister she adored. Malki was murdered at 15. Ahlam Tamimi faces US Federal charges for her involvement. pic.twitter.com/U8UcwDbiCJ

— This Ongoing War (@ThisOngoingWar) February 16, 2018
It can't be very pleasant to be criticized by people like us, Malki's still-grieving parents. But trust us, @SarahKSilverman, that (a) we're relatively rational, calm and peace-minded; (b) we know far more than most people about what the Tamimi clan do and say.

— This Ongoing War (@ThisOngoingWar) February 16, 2018
Enter anti-Israel DouchebloggerTM Richard Silverstein, who saw it fit to respond to the still-grieving Roths like this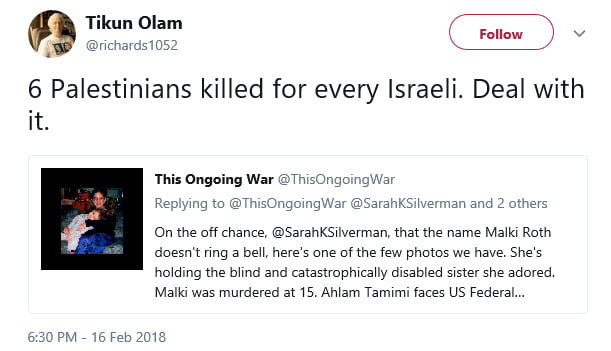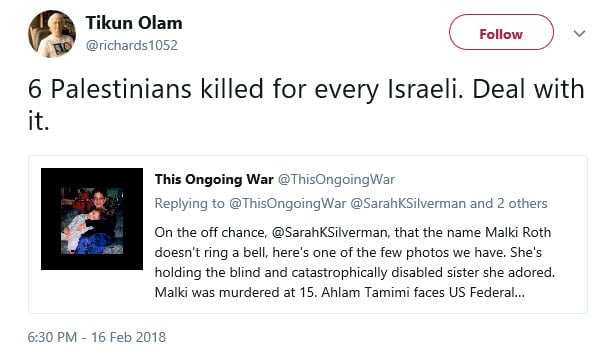 Imagine hating Israel so much that the photo of a murdered 15-year-old girl elicits this type of callous response. This is the world that Richard Silverstein and other Israel haters inhabit.