NYC Students for Justice in Palestine Caught Expressing Public Support for Hamas & Terrorism
Fresh from their return to Twitter from suspension after being targeted by Israel haters and antisemites unhappy they were exposing their (inconvenient) antisemitic and terror supporting posts, the group Canary Mission has now exposed another terror-supporting post – this time by NYC Students for Justice in Palestine.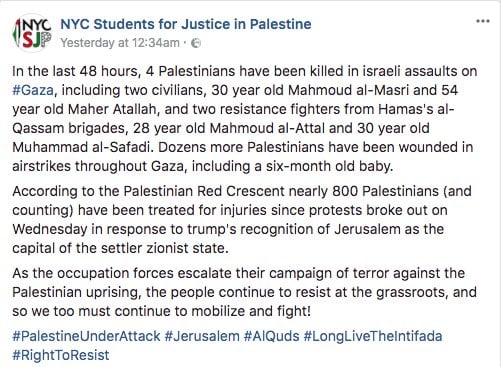 This is very explicit in its support of Hamas ("resistance fighters") and calls for the terrorism to continue. It is no wonder they are referred to as "Hamas on campus." Note also that all of Israel is described as "the settler zionist state", so you just know the "justice in Palestine" in their name involves Israel's complete destruction. I guess they didn't get the memo to pretend they don't stand for this.
Of course, none of this is surprising, given what we already know about them and their antics. But it is always good to continually expose antisemitic, terror-supporting groups like this.
Incidentally, the post is from December 2017 based on the details in it, and the NYC Students for Justice in Palestine Facebook page seems to be no more – whether that is because they were removed by Facebook or the result of them voluntarily taking it down after being caught posting this, I am not sure.
Just kidding. Do you really think Facebook would have removed it?!