Jew Hater CJ Werleman Says Israel Worse than the Nazis
I have written about CJ Werleman before, given his disregard for the truth and proclivity to lie when it comes to Israel. And until now, I have characterized him as an Israel hater.
I am now going to refer to him as the Jew hater that he most clearly is.
You see, one of the hallmarks of antisemitism is comparing us to the Nazis. But BJ CJ go even beyond that.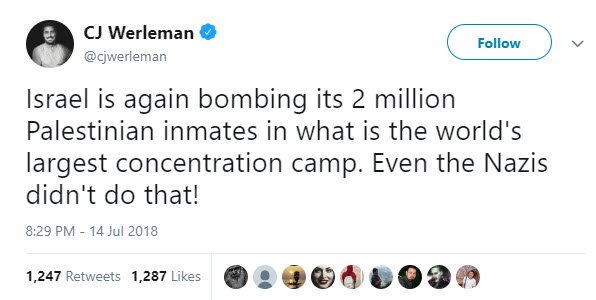 Apparently, being a Jew hater is what is needed to "defeat the Islamophobia industry." Because god forbid people should fear Muslims and tolerate Jews at the same time (and yes, almost 150 people are donating money every month to this Jew hater to spread his bile).
Of course, this is not the first indication of his Jew hatred – it is just that I haven't been paying much attention to him. A quick look at his Twitter timelines indicates that he's been at it for a while. For instance, this champion of Muslim rights would not dare write about the numerous Imams and Muslim leaders who refer to the Jews as "the sons of monkeys and pigs." But he'll sure as hell find the errant Rabbi who reportedly said something offensive.
And he promotes the idea that Muslims are the new Jews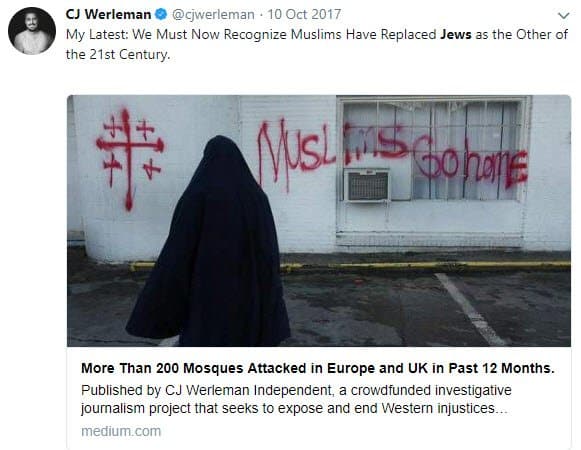 While pretending to care about antisemitism
Werelman may think he is being smart, but this is all ever-so-typical of the "anti-Zionist-not-antisemite." He is merely following the proven and predictable formula.
Unfortunately for him, people like me are well and truly on to him. And I won't shut up about it either.