Latest Palestinian Libel: The Vicious Settler Attack On a Little Old Lady
When this appeared in my feed a few minutes ago, I just knew it was yet another pernicious lie from the palestinian side.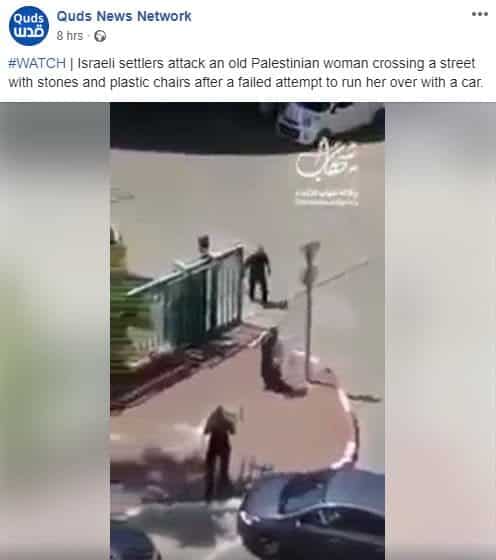 You can click here to see the video.
I seemed to recall the incident from a few years ago, and after some minutes of Googling, hit the jackpot.
Here's what went down that day (besides the woman):
A female attacker stabbed and lightly wounded an Israeli woman at the Rosh HaAyin industrial area on Sunday afternoon.

The attacker, a 23-year-old resident of Kafr Qasem, was subdued by a security guard who was nearby and arrested with no shots fired. A second knife was found in the attacker's possessions.

Security camera footage reveals what happened during the attack, showing at least 10 civilians surrounding the stabber and throwing objects at her, and two drivers blocking her path with their vehicles so she could not get away.

The man who subdued the attacker said that while driving his car, he noticed "two girls fighting, and then I realized one of them had a long knife in her hand." He stopped his car and overpowered the attacker. He was later questioned by police.

The victim, a 30-year-old woman from Kfar Saba, suffered deep stab wounds to her hand and was taken to the Beilinson Hospital at the Rabin Medical Center in Petah Tikva. She is expected to be discharged later in the day.

"I was leaving a work meeting on HaMelacha Street when all of a sudden the terrorist appeared in front of me," the wounded woman said. "She came close and suddenly I felt pain, like a fist to the hand. I saw she had a large knife. She looked like an Arab woman and was wearing a head covering…. the terrorist didn't yell anything, she just raised her hand in front of me and started stabbing me over and over again. I hurled my bag at her and yelled really loudly but she kept stabbing me until other people came and tried to fight her off. I fell to the floor, pushed her a few times, and then people started chasing her and I didn't see the rest."

The woman said the knife "cut through my muscle and there was a lot of blood. It was scary, and it mostly could have ended worse."

"I couldn't imagine something like this could happen to me in Rosh HaAyin. I'm still in shock that I joined the statistics" of terror victims, she added.
In other words, this was footage of a terrorist being subdued after trying to murder an Israeli woman. Not only that, but she was not an old woman as claimed – unless I missed the memo that 23-years-of-age is ancient.
So what we have here is yet another shameless attempt to pull the wool over the eyes over those willing to be gullible enough to allow it.