Will the Real Julia Salazar Please Stand Up?
Note: I have sat on this draft for 5 weeks, awaiting confirmation everything was accurate. In the meantime, Tablet has just published their own expose, which not only confirms my information but also brings in more information. Nevertheless, I am posting this because the Tablet piece is very long. Having said that, read the Tablet piece if you can – it demonstrates excellent journalism.
---
Julia Salazar, a state Senate candidate in Brooklyn, is fast becoming a big deal. Cynthia Nixon has endorsed her, as has Linda Sarsour. And according to many like the New York Daily News and The Forward, she might just be the next Alexandria Ocasio-Cortez, the Democratic primary winner in New York's 14th congressional district who I posted about here.
And there are a number of similarities. One they don't mention is the fact Salazar is also an Israel hater.
But she never used to be. In fact, she used to be very pro-Israel, information she seems to have tried to flush down the memory hole. Likewise, while she claims to be Jewish, there is evidence she may be lying about this. In fact, Salazar seems to have a real aversion to the truth.
Claim 1: Soon after entering Columbia in 2009, Salazar became a "pro palestinian" activist
According to this article
Entering Columbia in 2009 immediately after high school, Salazar found her first opportunities to become involved in social justice work, joining the Israel/Palestine activism scene as a member of J Street and Jewish Voice for Peace.
What you won't read anywhere is how Salazar was pro-Israel around this time, even going on a trip to Israel with Christians United for Israel in 2012 – clearly way after entering Columbia in 2009 and before her turn to the dark side.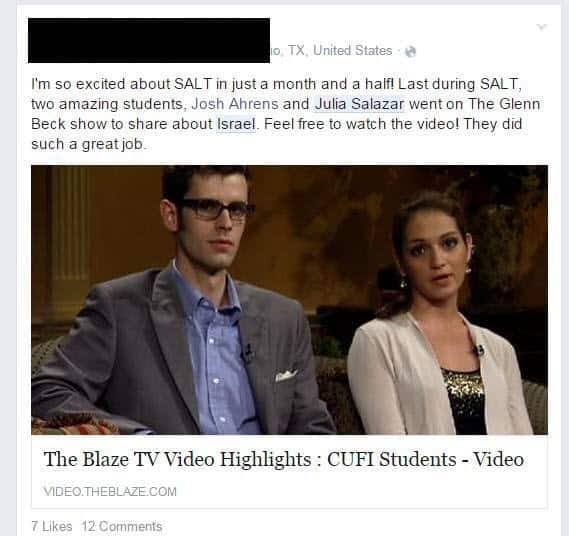 Unfortunately this Blaze interview is no longer online (one can surmise why).
Neither are her pro-Israel tweets, but an anonymous source has provided me with these photo screenshots:
as well as screenshots of old tweets:
It seems Salazar does not want this part of her past to be public knowledge.
Claim 2: Salazar is Jewish
According to The Forward
College was where Julia Salazar began to really explorer her Sephardic roots and class consciousness.

She attended Columbia University, one of the most heavily Jewish schools in the country, but also one of the most affluent. For Salazar, it was a crucible that forged her identity as a Jewish working-class woman.

—

She also came from a unique Jewish background. She was born in Colombia, and her father was Jewish, descended from the community expelled from medieval Spain.

—

Her mother raised Salazar and her brother in a secular household, and Salazar excelled at school, eventually landing at the elite university
Her claim to being Jewish is in many other articles online, but also manifest in her tweets.
And then there's the fact she has been working as a staff organizer in Jews for Racial and Economic Justice.
However, back in 2012, she was clearly a Christian, as some additional deleted tweets show.
But by November 2012, after her time in Israel, she reportedly started claiming her mother was Jewish, while at the same time also claimed she underwent a conversion. If the contradictory claims were not enough, no conversion process would take only a month (given she was clearly still into Jesus in September 2012)!
And mum is clearly Christian.
As for dad, it seems it is likely he too was no Jew.
Update: From the Tablet piece:
When reached by phone, Alex Salazar, the candidate's older brother and the operator of a number of Florida mango farms, said that one of their father's brothers was a Jesuit priest. (He also seemed to know very little about her campaign and seemed surprised when I told him she stood a good chance of winning.) "There was nobody in our immediate family who was Jewish … my father was not Jewish, we were not raised Jewish," he said. Their mother, Christine Salazar, indicated in a public September 2012 Facebook post that she planned on attending services at the Brooklyn Tabernacle, a nondenominational evangelical church in downtown Brooklyn. Although the candidate goes by Julia Carmel Salazar—and sometimes just Juli
Is Salazar lying about being Jewish just so she can hate on Israel with more abandon?
Claim 3: She is the child of immigrants
In this article, Salazar claims
My family immigrated to the US from Colombia when I was a baby, and my mom ended up raising my brother and me as a single mom, without a college degree and from a working-class background.
Yet in Mondoweiss, she contradicts herself, admitting her mother is from NJ, not Colombia
"My father is from Colombia. He moved to the States when he was young. His Sephardic surname is my surname. He died in 2009, as I've mentioned before. My mom's from New Jersey. We are not Arabs."
Why the contradiction? It seems Salazar has a hard time keeping her story straight.
---
I have been told also of a number of other potential lies of Salazar's but have chosen not to write about them here because they are either not verifiable or would identify some of my sources. But if true, they point to an extremely troubled and possibly even mentally disturbed individual.
In any event, I am hoping what I have documented here will at the very least give those thinking of supporting her cause to reconsider.