A Photo You Won't See In the Mainstream Media
The below photo shows 7-year-old Israeli Yonatan Regev from Kibbutz Mefalsim on his bicycle pedaling away from a fire caused by an incendiary balloon from Gaza. It was taken by 13-year-old Uriya Kabir, who lives in the same kibbutz, and supposedly went viral on social media.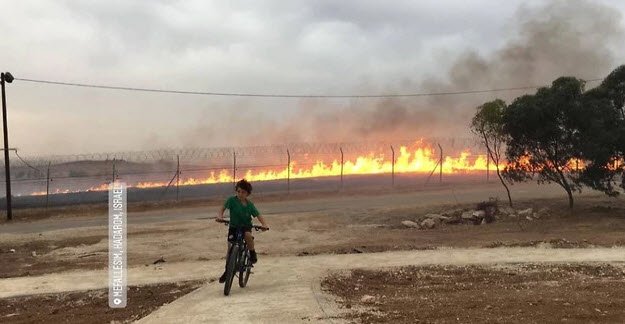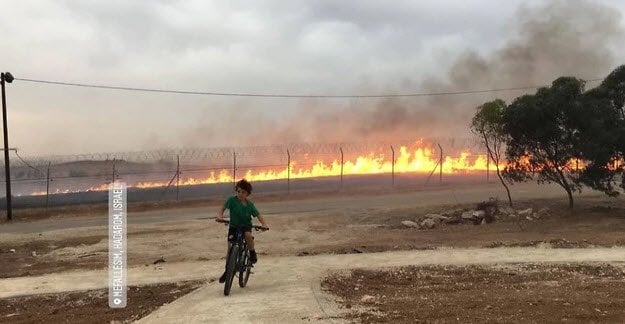 I did not see it, so if it did go viral, perhaps it did so in WhatsApp groups in Israel. And it sure hasn't been picked up by any of the mainstream media, which is too preoccupied showing how palestinian "demonstrators" (read: rioters) are being injured and sometimes killed – of course without the context of the violent activities they are engaged in, or how they are putting themselves at risk.
We hear about the incendiary balloons, but the way it is reported, you'd think they are more of an annoyance than anything. Sure, some have reported how thousands of acres of Israeli land have been scorched, but those reports are mostly from Israeli media outlets.
This photo shows how the fires are affecting the lives of so many Israelis, even to the point of threatening their lives. And unlike the palestinian rioters, the Israelis – like young Yonatan Regev and Uriya Kabir – are just minding their business, trying to live their lives.
Please spread this post and photo so more people out there understand the reality of the situation, and not just the distorted mainstream media version.