Palestinians Heart Bahraini Society's "Cleaning Of Zionist Filth"
An Israeli journalist in Bahrain to cover the "Peace to Prosperity" workshop posted a photo standing outside The Bahraini Society Against Normalization with Zionist Enemy – which is apparently a thing (and who are apparently not doing such a good job).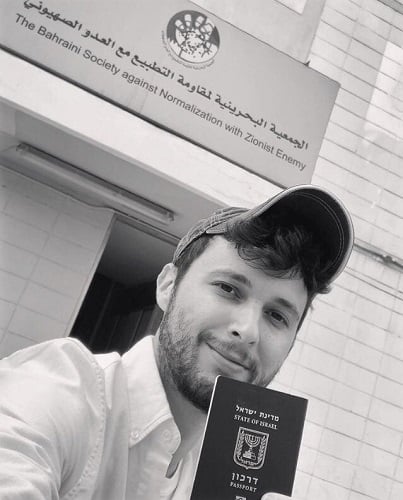 In response, there has been much seething, and the society's members published a dehumanizing photo – something anti-Israel propaganda site Quds News Network was more than happy to share.
As did Mahmoud Abbas' Fatah party.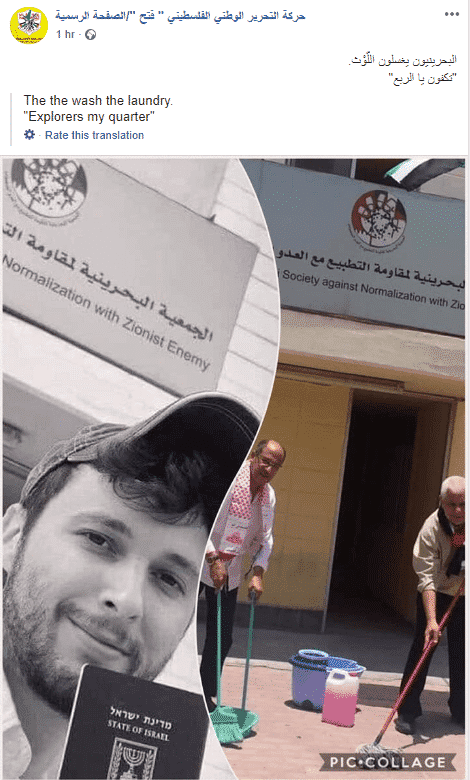 https://www.facebook.com/officialfateh1965/videos/574881649706715/?__xts__%5B0%5D=68.ARDzAo0ys89x50fMJcD90f2P624Vb6_NVWuna3NIbOPlu85KY4vrVwvRHaZDtMp4xDotkc62MfWNBBN-4YOKQu3O5pYaAWKlGjhduCw2AYT_8KSI5H-5lWcZQ-9jdlRCTaFPWsWtfeOLKVwZ4UU1OqDvsW-h7mteoBmmrYWH1rKngHcvm_8jiFd5c8F6nYcKJF6cf5Gn0Y2EVuFeOogiGK4qKpJgQ-oQvvoc_DCYfah6xfoh-cNz4B8hg-QkzT42GmVV-E2Xp4vQ4OKTcmuKlTRuen00BRiMlzDN9H3SQwKARQHBKGR6RBEgXYtEHCcVCDUZA2W-oLg1eIzDujxVKNE9B2G-faG0ZAE8YxqPlK5Lva4TXz6Dz3ahqUns1BYEezi25vs&__tn__=-R
They can use all the chemicals and dehumanizing language they want – our relationship with more and more Arab states is improving. If they don't want to see it, they can stick bleach in their eyes.
Update: The Israeli is not a journalist and he's not in Bahrain for the workshop.
https://twitter.com/NickfromIsrael/status/1143518844260143105
.