BDS Movement Makes It Clear It Wants Israel Destroyed
How much does the BDS movement want Israel destroyed?
So much so, that they not only want palestinian refugees flooding back into Israel, but they have inflated the number of refugees – as counted by UNRWA – by a whopping 74%!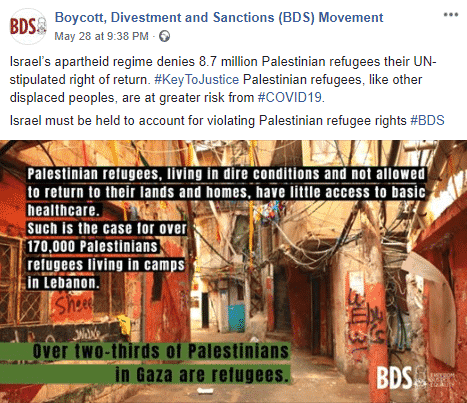 According to UNRWA, there are currently around 5 million palestinian refugees. As I have posted many times in the past, even this is a grotesquely inflated figure based on the loosest definition of "refugee" ever seen, which includes persons whose normal place of residence was palestine during the period 1 June 1946 to 15 May 1948 (even if they had only just arrived then), as well as the descendants of Palestine refugee males, including adopted children.
How they came up with 8.7 million is beyond me. Perhaps that is how many they think would be needed to overcome and murder the Jews living in Israel.
For the record, according to a more normative definition of a refugee, the number was around 700,000, which is the number of palestinian Arabs who fled or were expelled during the 1948 War of Independence (still less than the approximately 850,000 Jews who fled, or were expelled from Arab and Muslim countries after the establishment of the state of Israel.). About 30,000-50,000 of these palestinian refugees were estimated still alive in 2012.