The Vaccine of Humor
From the Marx Brothers, Seinfeld, Jackie Mason, Mel Brooks to Sasha Baron Cohen, Jews have been the leading agent of gallows humor which has accompanied us throughout inquisitions, pogroms, wars, terrorism and even – somewhat controversially – the Holocaust.
The jokes and memes that flooded Israeli social media during the endless Corona lockdowns, prompted researchers Dafna Lemish and Nelly Elias, to investigate what is was about this particular humor that made it go viral throughout the globe.
Even though the Corona jokes that set the trend had an Israeli element to them, according to the research, the humor rang a bell with audiences world-wide. Non-Israelis said this humor had helped them reflect on their own feelings and keep them sane during cabin fever.
Examples would be Israeli advocate and educator Neil Lazarus who set up a Facebook page especially for Corona jokes. Within a few days he had stockpiled a few thousand followers. No less was the case for comedienne Molly Livingstone, who with her sharp wit and self deprecating humor had amassed enough material for stand-up.
Although the women's research included the likes of the frenzy of stocking up on toilet paper and people getting ever-so fat, they decided to focus on the joys of parenthood because Israel is a child-centered society where babies are taught to argue before they can walk, and little ones are deserving of having every need pampered. But during the lockdowns, the "children are a blessing" axiom, became a minefield of jokes.
Imploring the general public, Israeli parents used their social media to beg other parents not to have any more children. Restraint was a national responsibility! One joke that caught on was when a couple first hung a "Children For Sale," sign from their balcony. Other exhausted Mammas and Papas did the same. They also vowed to empty their bank accounts and donate their entire livelihood to research for that long-awaited vaccine.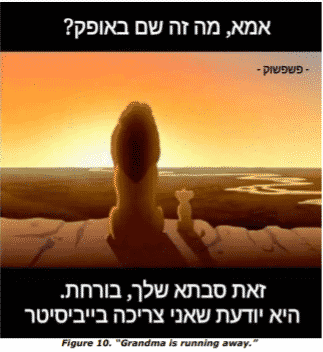 With daycare facilities being so expensive, many families rely on the assistance of grandparents while the parents are at work. Due to the need to keep Granny and Gramps at a distance, the once-doting grandparents became victims of their own children's jokes. Charged by their adult kids for "avoiding responsibility," grandparents memes abounded. One that went viral was from "The Lion King." Young Simba and his father are gazing longingly at the lioness on the horizon. A speech bubble above Dad reads: "That's grandma running away. She knows we need a babysitter."
Humor helps overcome anxieties and creates a little light relief. It reminds us not take ourselves too seriously. But most powerfully of all, humor defeats our adversaries. If we can laugh at our foes we have beaten them. And in the case of our enemy Corona, humor may have done just that.