Anti-Israel Propaganda Outlets Spread Gaza Dried Fruit Libel
AJ+ has come out with a video about a palestinian Arab woman who invented a way to overcome the shortage of dried fruits in Gaza, a biproduct of the Israeli "siege" or "blockade" of Gaza.
Leaving aside the fact that Egypt, not just Israel, has imposed restrictions on what can come in and out of Gaza – something Al Jizz does not think is worth mentioning – if you watch the woman speaking in the video, she never claims what Al Jizz does!
"The idea of the project started with me wanting to produce healthy dehydrated foods locally. I looked into the market and saw that we have a lot of imported products…"
In other words, she admits there is no shortage of dried fruits (something that is really easy to see for ourselves), just that she would like to produce them locally because – as she explains later in the video – hers are "natural and are sold at affordable prices." In fact, the plethora of imported dried fruits indicates that Israel does allow in foods and other essentials, only restricting those things that could possibly be utilized for terror purposes (like construction materials).
In contrast to AJ+, Reuters do not allege that the Israeli "blockade" has caused a shortage of dried fruits, rather that she wanted to provide cheaper alternative to the "costly imported dried products."
TRT make the same claim, but directly blame Israel for the costliness of the imports:
Even that seems to be a lie.
For instance, this is advertised for 3 shekels:
and this for 15 shekels: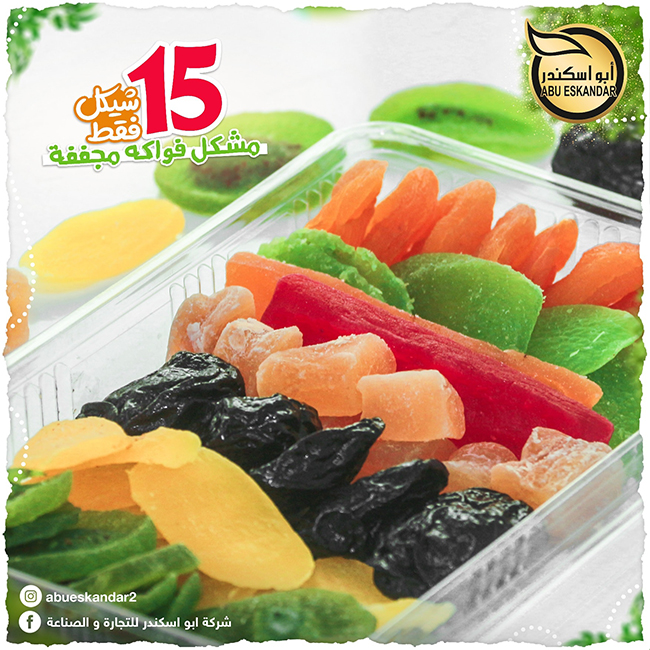 If anything, this seems cheap if you compare to what imported dried fruits cost in Israel!
In other words, there is absolutely no basis to make the claim that import dried fruits in Gaza are expensive due to the Israeli "blockade."
TRT go even further than this to allege that Gazans "don't have a reliable source of food mainly due to a blockade placed by Israel." Look at any photos of markets in Gaza, and you will see how this is another big fat lie.
Hat tip: Michal