Israel-Hater Richard Silverstein Alleges IDF Tells Soldiers to Rape Women and Collect Foreskins
Regular readers will be aware that anti-Israel douchebloggerTM Richard Silverstein has a love-hate relationship with facts: he hates facts but loves twisting them. And yesterday he provided us with a great example of this with the following claim: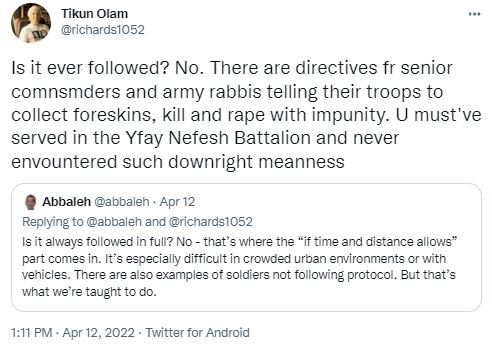 Douche-mocking hilarity ensued: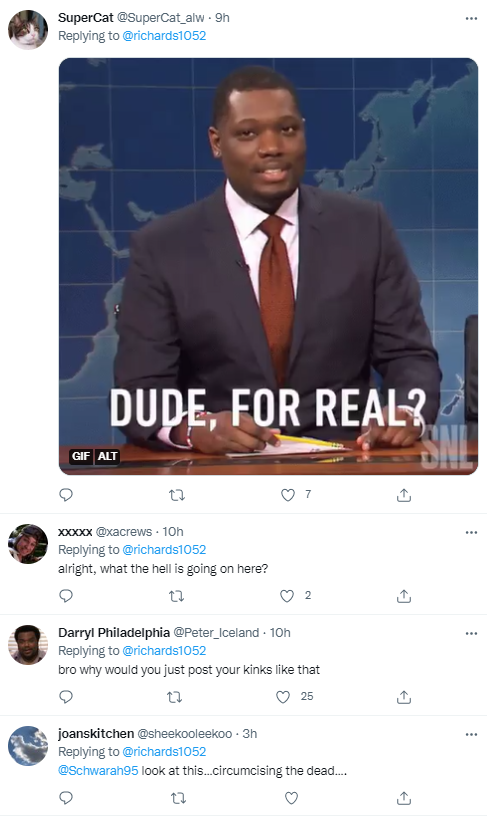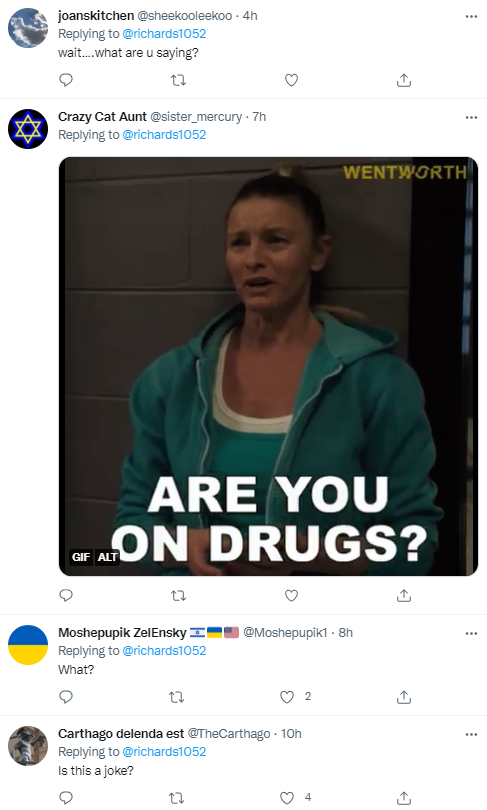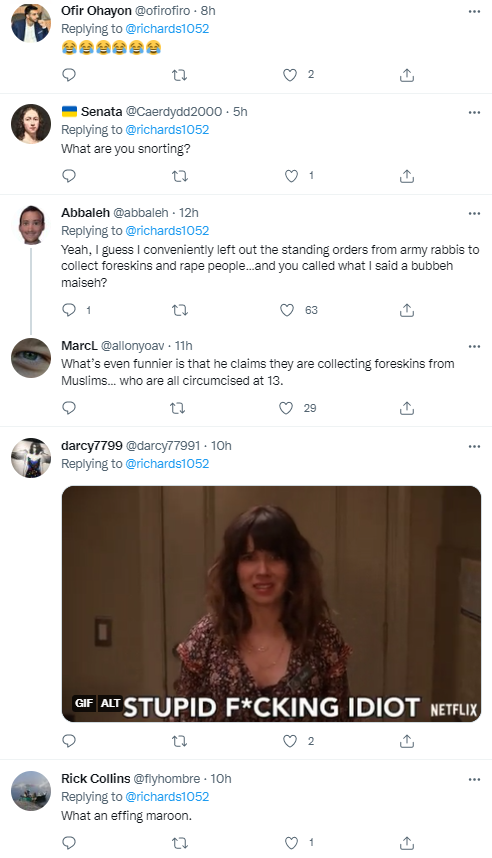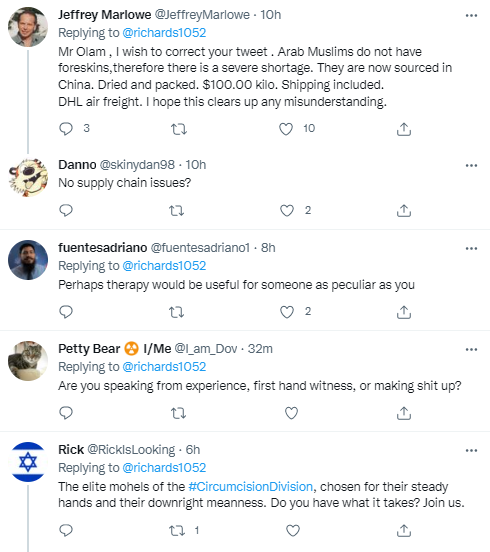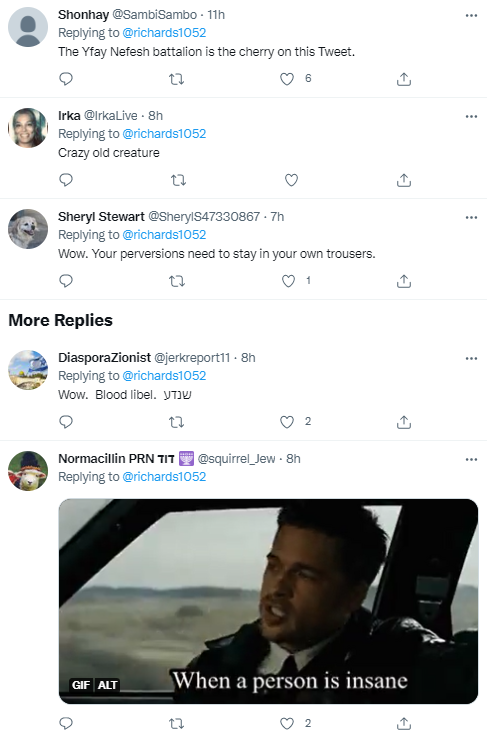 But instead of ehh, cutting his losses, we encountered double-down douche:
Silverstein's source for the allegation of "senior comnsmders (sic) and army rabbis telling their troops to collect foreskins" is this Ha'aretz report regarding a rabbi's call for revenge in response to the 2014 murder of Israeli teenagers Naftali Frenkel , Gilad Shaer, and Eyal Yifrah at the hands of palestinian Arab terrorists:
The secretary-general of World Bnei Akiva, Rabbi Noam Perel, called for revenge of the kidnapping and murder of three Israeli teens, the bodies of whom were found Monday.

"An entire nation and thousands of years of history demand revenge," Perel posted on his Facebook page, shortly after the bodies were found.

"The government of Israel is gathering for a revenge meeting that isn't a grief meeting. The landlord has gone mad at the sight of his sons' bodies. A government that turns the army of searchers to an army of avengers, an army that will not stop at 300 Philistine foreskins," Perel wrote, alluding to the biblical tale of David, who killed 200 Philistines and gave their foreskins to King Saul as the bride price for his daughter.

"The disgrace will be paid for with the blood of the enemy, not with our tears," Perel concluded.
It is clear that Rabbi Noam Perel was using biblical imagery to express his fury over the murder of the boys, and not actually ordering the IDF to collect foreskins. Not only that, he was the secretary-general of a religious Zionist youth movement and not an army rabbi! Yet Silverstein used this hyperbolic quote as "proof" of IDF policy of hunting and gathering foreskins.
That's quite the stretch (pun intended).
Silverstein's source for the allegation directives of "senior comnsmders (sic) and army rabbis telling their troops to… rape with impunity" is this TRT World report on the appointment of Rabbi Colonel Eyal Karim as chief rabbi of the IDF in 2016:
A cleric criticised for defending the rape of non-Jewish women has been appointed as the new chief rabbi of the Israeli Army.

Rabbi Colonel Eyal Karim has came under strong condemnation from women's groups in 2002 when he answered a question on a religious website asking whether is it permitted to rape women during war.

Karim said it was permitted to satisfiy "the evil inclination by lying with attractive Gentile women against their will, out of consideration for the difficulties faces by the soldiers and for overall success" could be considered as excusable in order to maintain morale among soldiers and the army during fighting.
Yet this very same "source" contradicts Silverstein's claim that the rape comments were an army directive:
Ten years after the remarks, the Israeli Defence Forces (IDF) have issued a statement intended to "clarify" Karim's response to the question as he is due to become the IDF's next chief chaplain. Both the military and Karim said the rabbi's words were misinterpreted.
For the record, Rabbi Karim clarified his comments and expressly forbade rape:
In his written statement to the court, Karim apologized for the statements and to those who were offended by them.

"I made a mistake when I gave a short answer to a complicated question," he wrote. "I was wrong because sometimes I was not precise with my words and some people found them offensive. I apologize."

The rabbi stressed that he never expressed any opinion that such actions were allowed. In his view, he wrote, it is completely forbidden for a soldier to carry out such an act.

Karim clarified that this was his view when he answered the original question in the remarks that led to a media firestorm, and this was still his opinion today.

—

When Karim's comments first surfaced in 2012, he issued a similar clarification, stating that his comments were in no way meant to be applied in the modern era.
It is clear from his original comments that he was speaking about the times of the Bible:
In his response, given in 2002, Karim implied that such practices, among several others that were normally prohibited — including the consumption of nonkosher food — were permitted during battle.

"Although intercourse with a female gentile is very grave, it was permitted during wartime (under the conditions it stipulated) out of consideration for the soldiers' difficulties," he wrote. "And since our concern is the success of the collective in the war, the Torah permitted [soldiers] to satisfy the evil urge under the conditions it stipulated for the sake of the collective's success."
So what we have here is Silverstein alleging official army directives to collect foreskins and rape with impunity, on the basis of:
A statement by a non-army rabbi using biblical hyperbole to express his rage over the murder of three teens
A statement by a rabbi, which seemed to condone rape, but was made well before he became army rabbi, and was rejected by the army and had been clarified to only theoretically apply to biblical times
It is clear that besides loving to lie, Silverstein also loves to project