the forward

-

search results

If you're not happy with the results, please do another search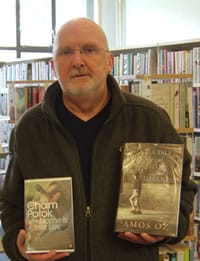 Israeli Minister of Tourism and leader of the Moledet party Benny Elon has his own plan for achieving peace. Entitled "The Right Road To...
And here I was thinking all that pot smoking made him chill.
One of Jeremy Corbyn's antisemitic deeds coming to light? Must be a day ending in 'y'
Rep. Ilhan Omar, recently appointed to the House Foreign Affairs Committee, continues to have a really hard time keeping the Jew hatred inside (inside herself, not the House Foreign Affairs Committee).
A group called Rise Up Ocean County has launched a campaign to "restrict development and preserve their quality of life" in Ocean Country, New Jersey. See if you notice a theme
Some Hanukkah satire from the Daily Freier
Paula writes that there was no physical violence aboard that plane; the lies came from those attempting to excuse El Al's actions
Salazar seems to have a real aversion to the truth.
Ariel Gold, you stink at BDS!
"Bernie Sanders, who now stands a better chance of becoming president than any Jew in American history"
If any of you recognize this hater, or where the store is, please let me know
Betsaida Alcantara writes of her experience with Israel-hating organization Jewish Voice for Peace (JVP)