I believe very strongly in fairness, but it must be real fairness
FINALLY putting those rumors of him being anti-Israel to rest
Something for the BDSHoles to boycott..but they won't
Humdinger of a football game in Spain
Who wants to be part of Asia anyway?
30000 soccer fans sing the Israeli National Anthem - Hatikva
"The Iranian President said that certain intelligence agencies put blades in the hands of madmen" and one UK MP thinks he may have a point.
Faced with the opportunity to stand up to injustice, what does Dutch Football Club Vitesse Arnhem do?
Now we have another way to identify Jew-hating a-holes
Samir Nasri of Manchester City and Mamadou Sakho of Liverpool Nazi salute
English footballer Rob Earnshaw has learned what it's like to experience a rocket attack in Israel. Not to mention the resilience of Israelis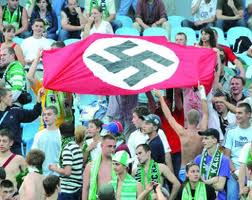 With the 2012 Euros under way, here is a disturbing documentary on the blatant racism and antisemitism of Polish and Ukrainian soccer hooligans
Yesterday, Israeli Prime Minister Binyamin Netanyahu participated in a soccer match with Jewish and Arab youths. Unfortunately for him, things did not exactly go according to plan