I'd say you can't make this stuff up - but it already has been
James Corden, takes over the shift of a Western Kosher employee. Kosher hilarity ensues.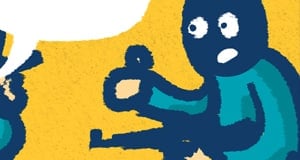 So people are expected to come and ransack Zionist goods. Quick, move the Jewish ones out of sight.
Repeating a fallacy does not make it kosher no matter how many times the international community tells the lie
It would appear that washing our hands was a very big part of Jews' success.
Prisoners are claiming to be Jewish for the kosher meals!
Dazed and confused fish? Or a foiled Mossad operation?
I can't say I've ever watched Jersey Shore and one of it's "stars" Snooki, but after watching this clip, I'd have to conclude she's not the sharpest tool in the shed
A number of interesting people in the news
I'm back from my business trip, although my brain is still in transit.
Right now the counter Jihad is on a knife edge and might take a very stupid decision on the issue of halal meat.
A serious issue for the counter Jihad, and a nice beef brisket