Home
Tags
Ahmet Davutoglu
And some had no business being there
...is the photo accompanying this Ynet report on Turkey latest jerkiness.
The US has slammed the PA for claiming the Western Wall belongs to the Muslims and has no significance for Jews.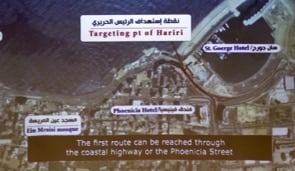 A court investigating the assassination of former Lebanese Prime Minister Rafik Hariri has asked Hizbullah leader Hassan Nasrallah to cough up the supposed evidence he claims to have that Israel was behind the assassination.
As promised, Hizbullah arch terrorist Hassan Nasrallah presented in a televised speech "proof" that Israel was behind the 2005 assassination of former Lebanese prime minister Rafik Hariri. He fell woefully short.
Israel's Counter-Terrorism Bureau has cancelled a travel warning issued on Turkey after the flotilla raid.
With Israeli Prime Minister Binyamin Netanyahu scheduled to meet US President Barack Obama tomorrow, Jerusalem is making every effort to prevent embarrassments such as those that occurred during his previous visit to the White House.
The Methodist Church of Britain yesterday voted to boycott Israeli-produced goods and services from the "West Bank" because of Israel's "illegal occupation of Palestinian lands."
The UN Security Council has sprung into action. To condemn Israel's actions yesterday of course.