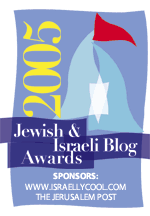 For the second year in a row, I find myself having to write a JIB-related post that I wish was not necessary.
You see, it seems that there are plenty of people out there who take the competition aspect too far. There are blog readers who leave snarky comments at blogs who have been requesting votes in the JIBs (and even
those
not really
requesting votes). And there are bloggers who have seen it necessary to either disparage other competing blogs, or
send their readers
to skew the results by voting for selected blogs that conform to their ideology.
Of course, there have also been those who have tried to taint the entire awards with their baseless accusation and petty jealousies, but I have already devoted wasted enough time on them.
Well I'll be damned if these ninkenpoops are going to spoil the months of hard work the Jerusalem Post and I have invested in this endeavour.
The JIB awards were conceived as a fun way to bring attention to the plethora of Jewish, Israeli, and pro-Israel blogs out there, which I consider absolutely necessary in light of the mainstream media bias against Israel (and, to some extent, Jews). The voting aspect is a means to an end, the end being to attract readers to the web pages listing the participating blogs, clicking on the links, and visiting them. This is why the voting is left to the readers, and not a panel of judges as some people (who have entirely missed the point) have suggested.
Now pay attention to what I am saying. The results themselves are irrelevant. They may not necessarily be indicative of the quality or worth of the blog. They may very well only be indicative of the blogger's readership, or their ability to garner support.
I have been asked for my opinion on the tactics of some bloggers who have been very competitive. As far as I am concerned, it is not against the spirit of the awards to ask for votes, even when it involves emailing your family, friends, and acquaintances. What I ask though, is that you encourage them to not just visit the site and vote for you, but to visit the site, look at the wide range of blogs in all categories, visit the ones that seem appealing – and then vote for you. This is a great way to bring more readership to the blogs. Think about it. If most of the participant blogs sent such an email to only 10 of their friends, then this could result in thousands more visitors to the site, and potentially increase the traffic of many participating blogs.
This is also the reason why many of you need to be rejoicing at the inclusion of certain "big name" blogs, rather than lamenting this fact. When they promote the JIBs on their sites, they are sending thousands of readers to the voting pages. I won't pretend that in many – if not most – cases, their readers are merely voting for them and leaving immediately, but I am sure, in some cases, there are readers taking the time to check out the other participating blogs.
Some of you have to think outside the box and see that you can all be winners in this competition. And that has absolutely nothing to do with receiving one of the logos for top three placegetter.
You can quote me on that.
Please help ensure Israellycool can keep going,
by donating one time or monthly
Facebook Comments
comments