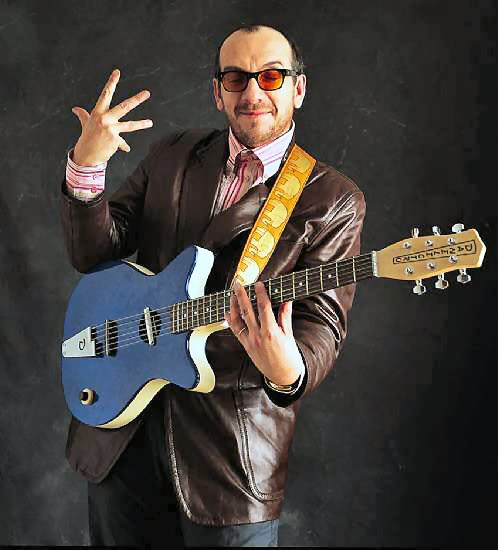 Legendary rock star Elvis Costello  – who was scheduled to perform in Israel in late June/early July – has decided to cancel.
It Is After Considerable Contemplation….

It is after considerable contemplation that I have lately arrived at the decision that I must withdraw from the two performances scheduled in Israel on the 30th of June and the 1st of July.

One lives in hope that music is more than mere noise, filling up idle time, whether intending to elate or lament.

Then there are occasions when merely having your name added to a concert schedule may be interpreted as a political act that resonates more than anything that might be sung and it may be assumed that one has no mind for the suffering of the innocent.

I must believe that the audience for the coming concerts would have contained many people who question the policies of their government on settlement and deplore conditions that visit intimidation, humiliation or much worse on Palestinian civilians in the name of national security.

I am also keenly aware of the sensitivity of these themes in the wake of so many despicable acts of violence perpetrated in the name of liberation.

Some will regard all of this an unknowable without personal experience but if these subjects are actually too grave and complex to be addressed in a concert, then it is also quite impossible to simply look the other way.

I offer my sincere apologies for any disappointment to the advance ticket holders as well as to the organizers.

My thanks also go to the members of the Israeli media with whom I had most rewarding and illuminating conversations. They may regard these exchanges as a waste of their time but they were of great value and help to me in gaining an appreciation of the cultural scene.

I hope it is possible to understand that I am not taking this decision lightly or so I may stand beneath any banner, nor is it one in which I imagine myself to possess any unique or eternal truth.

It is a matter of instinct and conscience.

It has been necessary to dial out the falsehoods of propaganda, the double game and hysterical language of politics, the vanity and self-righteousness of public communiqués from cranks in order to eventually sift through my own conflicted thoughts.

I have come to the following conclusions.

One must at least consider any rational argument that comes before the appeal of more desperate means.

Sometimes a silence in music is better than adding to the static and so an end to it.

I cannot imagine receiving another invitation to perform in Israel, which is a matter of regret but I can imagine a better time when I would not be writing this.

With the hope for peace and understanding. Elvis Costello
I have to admit to being more upset than usual about this latest display on celebrity moonbatitude, since Elvis Costello is my favorite musician and he is a brilliant live performer (I saw him perform in Perth about 11 years ago). And I did buy tickets to his June 30th show. Although to quote one of his song titles – I couldn't call it unexpected.
What makes this even more frustrating is that he seems to understand the situation is not black and white. While he talks of palestinian suffering, he does acknowledge the "many despicable acts of violence perpetrated in the name of liberation." Yet he cannot bring himself to talk of Israeli suffering, and has decide to pursue this boycott.
Damn.
Update: Only a few weeks ago, Costello had opposed boycotting performances.
Only two weeks after British rock icon Elvis Costello told The Jerusalem Post that the only answer to the Israeli-Palestinian conflict is "dialogue and reconciliation," he decided to take himself out of the equation by cancelling his two shows scheduled for June 30 and July 1 at the Caesaerea Amphitheater.

—-

Costello was set to make his Israeli debut with his new folk/bluegrass band The Sugarcanes, and in his conversation with the Post two weeks ago, he said that he had given much thought to playing in the country, but decided that he was against efforts to boycott performances.

"I know from the experience of a friend who is from Israel and from people who have worked there that there is a difference of opinion there among Israelis regarding their government's policies. It seems to me that dialogue is essential. I don't presume to think that my performance is going to be part of the process," Costello told the Post.

"The people who call for a boycott of Israel own the narrow view that performing there must be about profit and endorsing the hawkish policy of the government. It's like never appearing in the US because you didn't like Bush's policies or boycotting England because of Margaret Thatcher."
Meanwhile, the promoters had this to say:
Alive Productions, which was promoting the Costello shows, said in a statement that they were shocked by Costello's letter to them, which he later posted on his Web site.

"In the continuous contact we've had with Costello's management, there was never even a shred of a clue that he was considering cancelling," the statement  said.

In a written response to Costello, Alive Productions appealed to him to reconsider his "sudden and extreme" decision.

"Back in February, when you confirmed the performances in Israel, you were surely aware of the situation in the Middle East, and the existing long conflict between the two nations with different wants and dreams. You are probably familiar with the history and the global reality that we in Israel are confronted with," the letter stated.

"Perhaps there, it is easier to bury one's head in the sand and again use prejudice as a conduit to cultural discrimination of a large culture-loving public… music should be a voice of peace and brotherhood, a unifying force and should not be turned off merely because the background noises seem too loud.

"It is impossible to understand how your participation in a music concert, that is totally apolitical, can be interpreted as a political act. However, there can be no doubt that cancelling a performance for political reasons, and refusing to perform in Israel, can only be interpreted as a very strong political statement. Your decision will only push people further apart and enabling those wrong-doers to win through cultural terror."
Support more stories like this.