The following two tabs change content below.
An Aussie immigrant to Israel, Aussie Dave is founder and managing editor of Israellycool, one of the world's most popular pro-Israel blogs (and the one you are currently reading) He is a happy family man, and a lover of steak, Australian sports and girlie drinks
Latest posts by Aussie Dave (see all)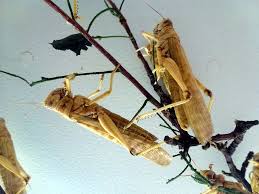 Israel can now be accused of ethnic insect cleansing, with Israeli media reporting that pesticides killed 90% of the locusts that made it into Israel from Egypt after originating from Sudan.
No word yet on whether we harvested their organs, or more to the point, whether they even have organs to begin with.
The remaining locusts will either be targeted by a Mossad hit squad, or eaten by Israelis.
Stir fried locusts in orange sauce, anyone?