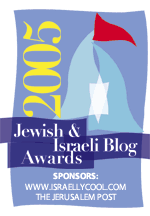 A number of somewhat disconnected points relating to the awards.
1. Emailing me expressing how dumb the awards are, or how I should disqualify those who are canvassing for votes, or how I should have excluded various blogs on the basis of their readership, is a waste of time. And since it is my time being wasted reading such emails, I would rather you didn't bother.
2. Emailing the Jerusalem Post expressing your disappointment that they have shared the responsibility of hosting the awards with a right-wing blog like Israellycool, is an even bigger waste of time, considering the fact that I started them. I am part of the package. Deal with it.
3. Using your blog to
rubbish
the inclusion of various blogs is poor form. It is even poorer form to bring up the bloggers' religions, which are irrelevant, considering that giving exposure to Israel advocacy blogs is an aim of the awards, and you needn't be Jewish to have such a blog.
For the record, I have always been very fair in defining Israel advocacy. Left-wing and right-wing blogs alike have been included in this category.
4.
LGF
is definitely an Israel advocacy blog. So quit the
whining and bad sportsmanship
, which is undermining the spirit in which these awards are intended. The JPost and I have worked very hard on the awards, and the last thing I want is nastiness entering the equation.
5. Enjoy yourselves! I don't mean it is as a cliche when I say "it doesn't matter whether you win or lose." That's the truth..it really doesn't matter. The whole idea is to bring attention to the nominated blogs. In this sense, they hopefully all win.
I apologize if this post seems harsh, and I seem frazzled, but I think I have been fairly patient up until now. I guess even a laidback Aussie has his limits.
Please help ensure Israellycool can keep going,
by donating one time or monthly