Iran are claiming that they have developed a way to contain AIDS.
Scientists in Iran have succeeded in developing a drug for AIDS containment, the Iranian news agency FARS reported. Last week, the Iranian health minister promised good news on the matter, yet no information regarding the drug and the treatment method has been released.

On Wednesday, Iranian President Mahmoud Ahmadinejad held a speech at Tehran University implying that: "There is a development on the issue, and if we announce it this would mean a tremendous development, but for now we lack the ability to answer all questions and we must continue dealing with different aspects of the matter."
U-huh. Just as I thought. They have developed nothing.
I guess they'll just continue with their current AIDS containment program.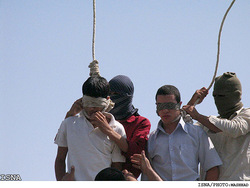 Please help ensure Israellycool can keep going,
by donating one time or monthly