Who Is Sam Bacile?
I'll cut straight to the chase, I'm putting up a bounty to whoever can come up with information on Sam Bacile. There are however, two conditions. The information must have a proven time stamp from before September 11th, 2012, and that it does not include a YouTube user account.
Are you up for the challenge? Because it looks like you're going to have a hard time.
Here's a good summary of the case by Sarah Posner
Both the AP and the Wall Street Journal have reported interviews with Sam Bacile, the man who claims to be a California real estate developer who raised $5 million from Jewish donors to make his obviously lowest-of-low budget, amateurish anti-Islam film.

But before the July 2012 upload of the film trailer to YouTube, under the user name Sam Bacile, you'd be hard pressed to find evidence of the existence a California real estate developer online. What's more, if whoever made the film actually spent $5 million on it, the expenditure hardly shows in the content, acting, or production values. Amateurish doesn't even begin to describe the 13-minute trailer on YouTube.

The film was promoted by anti-Muslim zealot Terry Jones.

The WSJ reported yesterday:

The film's 52-year-old writer, director and producer, Sam Bacile, said that he wanted to showcase his view of Islam as a hateful religion. "Islam is a cancer," he said in a telephone interview from his home. "The movie is a political movie. It's not a religious movie."

Mr. Bacile said he raised $5 million from about 100 Jewish donors, whom he declined to identify. Working with about 60 actors and 45 crew members, he said he made the two-hour movie in three months last year in California.

The AP reported early this morning (before the brutal murders of US Ambassador to Libya Christopher Stevens and three others were confirmed) that Bacile was "in hiding":

An Israeli filmmaker based in California went into hiding Tuesday after his movie attacking Islam's prophet Muhammad sparked angry assaults by ultra-conservative Muslims on U.S. missions in Egypt and Libya, where one American was killed.

Speaking by phone from an undisclosed location, writer and director Sam Bacile remained defiant, saying Islam is a cancer and that the 56-year-old intended his film to be a provocative political statement condemning the religion.

* * * *

Bacile, a California real estate developer who identifies himself as an Israeli Jew, said he believes the movie will help his native land by exposing Islam's flaws to the world.

"Islam is a cancer, period," he said repeatedly, his solemn voice thickly accented.

The two-hour movie, "Innocence of Muslims," cost $5 million to make and was financed with the help of more than 100 Jewish donors, said Bacile, who wrote and directed it.

The Times of Israel says Bacile spoke from telephone with "a California number":

Speaking from a telephone with a California number, Bacile said he is Jewish and familiar with the region. Bacile said the film was produced in English and he doesn't know who dubbed it in Arabic. The full film has not been shown yet, he said, and he said he has declined distribution offers for now.

"My plan is to make a series of 200 hours" about the same subject, he said.

Morris Sadek, an Egyptian-born Christian in the U.S. known for his anti-Islam views, told The Associated Press from Washington that he was promoting the video on his website and on certain TV stations, which he did not identify.

Both depicted the film as showing how Coptic Christians are oppressed in Egypt, though it goes well beyond that to ridicule Muhammad—a reflection of their contention that Islam as a religion is inherently oppressive.

"The main problem is I am the first one to put on the screen someone who is (portraying) Muhammad. It makes them mad," Bacile said. "But we have to open the door. After 9/11 everybody should be in front of the judge, even Jesus, even Muhammad."

Consider all the contradictions: small ones, true, like in one account he is 52 and in another he is 56. To the AP he is "a California real estate developer who identifies himself as an Israeli Jew" and to the Times of Israel he is "Jewish and familiar with the region." And what about that bit at the end of the statement to the Times of Israel—that "even Jesus" should be "in front of the judge"? That sounds like someone who is trying to provoke more than just Muslims. A lot of things don't add up here about the claimed identity of the filmmaker.

UPDATE: A detail I failed to note earlier this morning from the AP story: "Israeli officials said they had not heard of him and there was no record of him being a citizen. They spoke on condition of anonymity because they are not permitted to share personal information with the media."

Also, Laura Rozen raises some questions about Steve Klein, who told the AP that he was a "consultant" on the film who warned Bacile he would be "the next Theo van Gogh." Klein told the AP that Bacile was concerned for relatives in Egypt, something Bacile would not confirm.

And there were some hints that Bacile may be a pseudonym for someone affiliated with the Egyptian Coptic Christian diaspora.

A consultant on the film, Steve Klein, told the AP that Bacile has family members in Egypt. A 2007 interview with Klein, a self-styled terrorism expert and former Marine Corps Vietnam vet, mentions his ties to the Copt diaspora community.

Klein's author biography in a self-published work, "Is Islam compatible with democracy," states: "With 9/11 2001, I immersed myself with Islam in America; went to every major Mosque in SoCal with Arabic speaking Christians as translators and uncovered useful information about many Mosques being the head quarters of terrorism in America."

If that is true, and "Bacile" was claiming to be Jewish and to have raised money from Jews for the film, it only multiplies the incendiary nature of his project.
For someone who supposedly doesn't know Arabic all that well, he has a liking for Arabic YouTube videos.
He commented in Arabic on one, and liked this video from Egypt's AzharTV: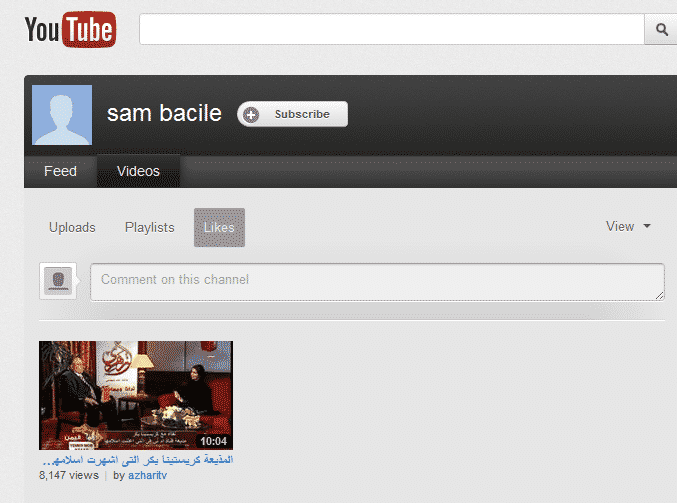 He also favorited this video from Egypt's Al Nour Party: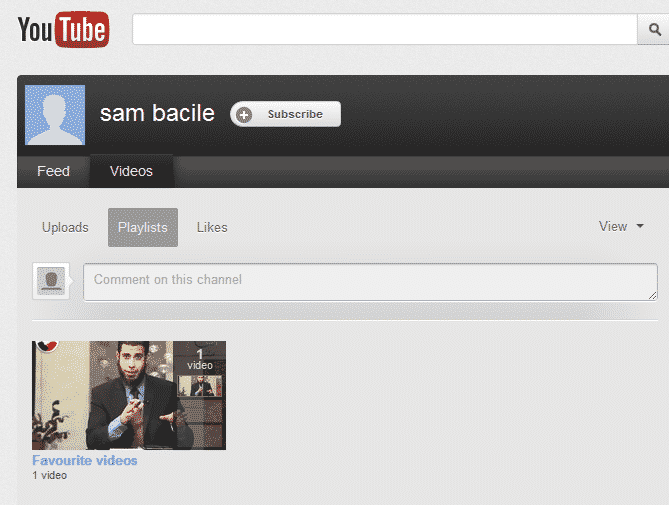 His only Google+ friend is an Egyptian from Al-Bajalat.
But the most damning evidence of Sam Bacile not being Israeli (nor a Jew) comes from Jeffrey Goldberg:
Klein [Anti-Islam activists. JD] told me that Bacile, the producer of the film, is not Israeli, and most likely not Jewish, as has been reported, and that the name is, in fact, a pseudonym. He said he did not know "Bacile"'s real name. He said Bacile contacted him because he leads anti-Islam protests outside of mosques and schools, and because, he said, he is a Vietnam veteran and an expert on uncovering al Qaeda cells in California. "After 9/11 I went out to look for terror cells in California and found them, piece of cake. Sam found out about me. The Middle East Christian and Jewish communities trust me."

He said the man who identified himself as Bacile asked him to help make the anti-Muhammad film. When I asked him to describe Bacile, he said: "I don't know that much about him. I met him, I spoke to him for an hour. He's not Israeli, no. I can tell you this for sure, the State of Israel is not involved, Terry Jones (the radical Christian Quran-burning pastor) is not involved. His name is a pseudonym. All these Middle Eastern folks I work with have pseudonyms. I doubt he's Jewish. I would suspect this is a disinformation campaign."

I asked him who he thought Sam Bacile was. He said that there are about 15 people associated with the making of the film, "Nobody is anything but an active American citizen. They're from Syria, Turkey, Pakistan, they're some that are from Egypt. Some are Copts but the vast majority are Evangelical."
Moreover, Israel's Channel 2 interviewed someone who claimed he was with Sam Bacile, and that he doesn't want to talk to the media. That guy had a heavy Arabic accent.
If you put all the pieces together, we can take a not-so-wild guess that "Sam Bacile" is Egyptian, not Israeli nor Jewish. The question we should all ask is not who is Sam Bacile, but who is the Egyptian, that for the sake of the Copts, framed Israel?
Update:  Game, set, match:
Actress in Muhammed Movie Says She Was Deceived, Had No Idea It Was About Islam

According to Garica, her three days on set last July were unremarkable. The film's mysterious pseudonymous writer and director, "Sam Bacile," has claimed to be an Israeli real estate mogul. But Garcia said Bacile told her he was Egyptian on set. Bacile had white hair and spoke Arabic to a number of "dark-skinned" men who hung around the set, she said.
Does the name Morris Sadek ring a bell?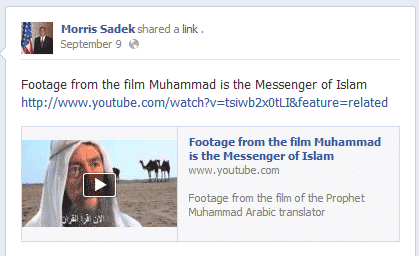 Aussie Dave adds: It now seems the culprit is not Sadek, but another Coptic named Nakoula Basseley Nakoula.
The search for those behind the provocative, anti-Muslim film implicated in violent protests in Egypt and Libya led Wednesday to a California Coptic Christian convicted of financial crimes who acknowledged his role in managing and providing logistics for the production.

Nakoula Basseley Nakoula, 55, told The Associated Press in an interview outside Los Angeles that he was manager for the company that produced "Innocence of Muslims," which mocked Muslims and the prophet Muhammad and may have caused inflamed mobs that attacked U.S. missions in Egypt and Libya. He provided the first details about a shadowy production group behind the film.

Nakoula denied he directed the film and said he knew the self-described filmmaker, Sam Bacile. But the cell phone number that AP contacted Tuesday to reach the filmmaker who identified himself as Sam Bacile traced to the same address near Los Angeles where AP found Nakoula. Federal court papers said Nakoula's aliases included Nicola Bacily, Erwin Salameh and others.

Nakoula told the AP that he was a Coptic Christian and said the film's director supported the concerns of Christian Copts about their treatment by Muslims.

Nakoula denied he had posed as Bacile. During a conversation outside his home, he offered his driver's license to show his identity but kept his thumb over his middle name, Basseley. Records checks by the AP subsequently found it and other connections to the Bacile persona.

The AP located Bacile after obtaining his cell phone number from Morris Sadek, a conservative Coptic Christian in the U.S. who had promoted the anti-Muslim film in recent days on his website. Egypt's Christian Coptic population has long decried what they describe as a history of discrimination and occasional violence from the country's Arab majority.

Pastor Terry Jones of Gainesville, Florida, who burned Qurans on the ninth anniversary of the Sept. 11, 2001 terror attacks, said he spoke with the movie's director on the phone Wednesday and prayed for him. He said he has not met the filmmaker in person, but the man contacted him a few weeks ago about promoting the movie.

"I have not met him. Sam Bacile, that is not his real name," Jones said. "I just talked to him on the phone. He is definitely in hiding and does not reveal his identity. He was quite honestly fairly shook up concerning the events and what is happening. A lot of people are not supporting him."

The film was implicated in protests that resulted in the burning of the U.S. consulate Tuesday in the eastern Libyan city of Benghazi.

Libyan officials said Wednesday that Ambassador Chris Stevens and three other embassy employees were killed during the mob violence, but U.S. officials now say they are investigating whether the assault was a planned terrorist strike linked to Tuesday's 11-year anniversary of the 9/11 terror attacks.

Nakoula, who talked guardedly about his role, pleaded no contest in 2010 to federal bank fraud charges in California and was ordered to pay more than $790,000 in restitution. He was also sentenced to 21 months in federal prison and ordered not to use computers or the Internet for five years without approval from his probation officer.

The YouTube account, "Sam Bacile," which was used to publish excerpts of the provocative movie in July, was used to post comments online as recently as Tuesday, including this defense of the film written in Arabic: "It is a 100 percent American movie, you cows."

Assistant U.S. Attorney Jennifer Leigh Williams said Nakoula set up fraudulent bank accounts using stolen identities and Social Security numbers, then checks from those accounts would be deposited into other bogus accounts from which Nakoula would withdraw money at ATM machines.

It was "basically a check-kiting scheme," the prosecutor told the AP. "You try to get the money out of the bank before the bank realizes they are drawn from a fraudulent account. There basically is no money."

The actors in the film issued a joint statement Wednesday saying they were misled about the project and said some of their dialogue was crudely dubbed during post-production.

In the English language version of the trailer, direct references to Muhammad appear to be the result of post-production changes to the movie. Either actors aren't seen when the name "Muhammad" is spoken in the overdubbed sound, or they appear to be mouthing something else as the name of the prophet is spoken.

"The entire cast and crew are extremely upset and feel taken advantage of by the producer," said the statement, obtained by the Los Angeles Times. "We are 100 percent not behind this film and were grossly misled about its intent and purpose. We are shocked by the drastic rewrites of the script and lies that were told to all involved. We are deeply saddened by the tragedies that have occurred."

The person who identified himself as Bacile and described himself as the film's writer and director told the AP on Tuesday that he had gone into hiding. But doubts rose about the man's identity amid a flurry of false claims about his background and role in the purported film.

Bacile told the AP he was an Israeli-born, 56-year-old, Jewish writer and director. But a Christian activist involved in the film project, Steve Klein, told AP on Wednesday that Bacile was a pseudonym and that he was Christian.

Klein had told the AP on Tuesday that the filmmaker was an Israeli Jew who was concerned for family members who live in Egypt.

Officials in Israel said there was no record of Bacile as an Israeli citizen.

When the AP initially left a message for Bacile, Klein contacted the AP from another number to confirm the interview request was legitimate then Bacile called back from his own cell phone.

Klein said he didn't know the real name of the man he called "Sam," who came to him for advice on First Amendment issues.

About 15 key players from the Middle East — from Syria, Iraq, Turkey, Pakistan, Iran and a couple Coptic Christians from Egypt — worked on the film, Klein said.

"Most of them won't tell me their real names because they're terrified," Klein said. "He was really scared and now he's so nervous. He's turned off his phone."

The Southern Poverty Law Center, which monitors hate groups, said Klein is a former Marine and longtime religious-right activist who has helped train paramilitary militias at a California church. It described Klein as founder of Courageous Christians United, which conducts protests outside abortion clinics, Mormon temples and mosques.

It quoted Klein as saying he believes that California is riddled with Muslim Brotherhood sleeper cells "who are awaiting the trigger date and will begin randomly killing as many of us as they can."

In his brief interview with the AP, Bacile defiantly called Islam a cancer and said he intended the film to be a provocative political statement condemning the religion.

But several key facts Bacile provided proved false or questionable. Bacile told AP he was 56 but identified himself on his YouTube profile as 74. Bacile said he is a real estate developer, but Bacile does not appear in searches of California state licenses, including the Department of Real Estate.

Hollywood and California film industry groups and permit agencies said they had no records of the project under the name "Innocence of Muslims," but a Los Angeles film permit agency later found a record of a movie filmed in Los Angeles last year under the working title "Desert Warriors."

A man who answered a phone listed for the Vine Theater, a faded Hollywood movie house, confirmed that the film had run for a least a day, and possibly longer, several months ago, arranged by a customer known as "Sam."