As some of you may already be aware, I spent the last almost-week in the hospital with Mrs Aussie Dave, who had two growths removed from her mediastinum.
Since I like to find ways to make the best of a crappy situation, I thought I would post some random observations from our stay there.
The best way to see the ridiculousness of the apartheid accusation is to visit an Israeli hospital
Not only were the vast majority of patients in the ward Arabs, but so were the majority of my wife's surgeons, as well as a number of the nurses. And on the last night of her stay, my wife shared a room with an Arab woman.
I invite all BDSHoles to come visit an Israeli hospital. I'll even set it up.
And no, that was not a threat.
I am still capable of being surprised by my fellow Jews
For the majority of her stay, my wife shared a room with a Charedi (ultra-Orthodox) woman from Mea Shearim and a secular woman. Despite the stereotypes and negative press, the Charedi woman was extremely friendly and warm towards both my wife and the secular woman, even after the latter was speaking on her telephone during the Jewish Sabbath. It was a real eye-opener for me.
You meet the most amazing people in hospital
Besides all the dedicated medical staff and some very nice fellow patients, we had the pleasure of meeting Rafi, an 85-year-old man who travels all the way from the South by bus to volunteer at the hospital. He handed out necklaces to the patients and helped bring meals to them. He regaled us with stories of life from pre-1948 Israel – which makes him a true 'Palestinian.'
He also bears a passing resemblance to Shimon Peres.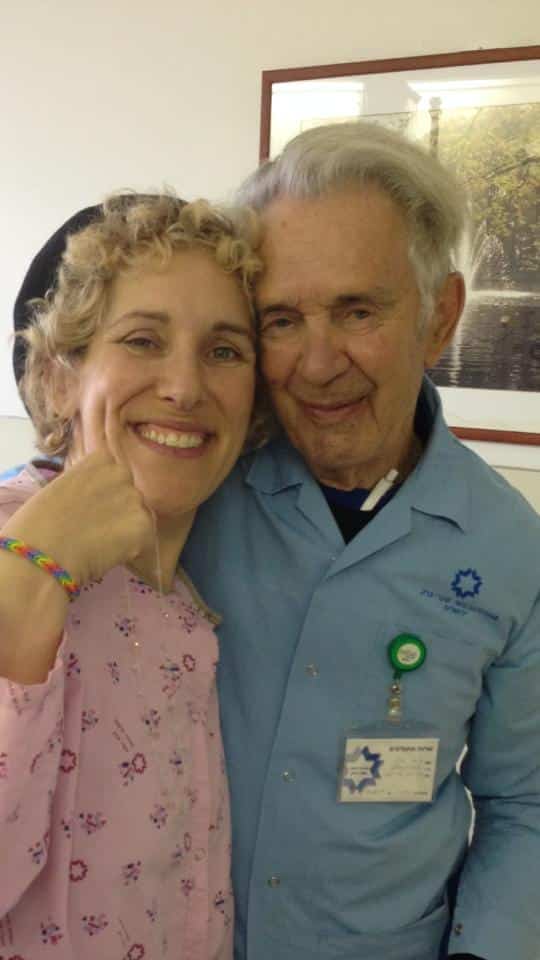 Israellycool gets no love from Shaarei Tzedek hospital
When trying to access the site from the wife's iPad, this happened:
Kind of ironic, given I have probably given the hospital more free and good PR than anyone else, but I think it is more an issue with Norton than them.
Please help ensure Israellycool can keep going,
by donating one time or monthly