Guest Post: 7 Of The Sexiest Settlers
Ever seen a sexy settler? From the way the media likes to portray these heroes as "religious fanatics," you probably haven't, unless you've walked these beautiful lands of Judea and Samaria (aka the West Bank) for yourself. These biblical heartlands have produced some of the hottest heartthrobs on the planet. Makes sense, not only because they grow up in rugged terrain, bringing out the man in them, but because they're defending the free world, even if the world doesn't appreciate it. So here are just 7 of the sexiest settlers, with a few words about what makes them so sexy – inside and out.
And yes, ladies, some are even single….
1. Yair Adler, Becoming The Best
Born and raised in Gush Etzion to American immigrants, Yair, 25, was already a heartthrob in high school, and then moved on to a pre-army prep school to get emotionally, physically and spiritually ready for serving as a commander in a Special Forces unit (Palsar 401) in the Armored Corp. During the Gaza War this past summer, Yair was called up as a reservist and searched house to house and tunnel to tunnel for those cowardly terrorists. But he's not only into searching for bad guys; he's into grooming good guys. During high school, Yair volunteered in the Big Brother program and mentored boys to be their best, for themselves and their country. He is currently a student of civil engineering at College of Management in Jerusalem. He loves to play guitar and travel – and yes, he's single!
2. Amichai Ben David, Jock, Brains, and Heart
With piercing blue eyes and fun loving personality, Amichai Ben David, 26, was already poised to become the crush of all the neighborhood girls when he moved to Efrat, Gush Etzion, with his family at age 3. During high school, he volunteered with Simcha Layeled, an organization based in Jerusalem dedicated to improving the quality of life of disabled and seriously ill children. During his IDF service, Amichai protected his people as a company commander in the 401 division of the Armored Corp on the borders of Gaza, Syria, Lebanon, Egypt and in Judea and Samaria. His love of sports brought him to the Wingate Sports Academy in Netanya. He went on to form a soccer league and to coach both the girls' and boys' soccer leagues in Efrat. But don't let his six-pack fool you into thinking he's just a jock. He's currently studying at the Interdisciplinary Center in Herzliya and organizes blood drives in his spare time. A staunch proponent of Israel advocacy, Amichai takes part in campus political debates and is active in Beit Prat, a leadership training program. He's single. (Swoon).
3. Arik Dushi, Making Peace Through Hummus
While politicians are blabbering about peace, Ariel native Arik Dushi is making peace happen. The hummus joint he founded in Ariel, Hummus Abu Dushi – now a local institution – is run with his Palestinian partner Faisel from the neighboring town of Kifl Haris, and it's the prime example how Palestinians and Israelis can unite over our most basic needs: hummus. He and Faisel are like brothers; their children, like cousins. His example and sound ideas, not to mention his charm and good looks, have served as excellent diplomacy for the settlements and their role in not dividing people, but in bringing them together. Aside from his entrepreneurial activities, Dushi is a father of two and Ariel councilmember. He works tirelessly to make the City of Samaria an ever exciting place to live, especially for the students and younger generation. Next time you're in Ariel, be sure to visit him and Faisel for some rockin' homemade hummus!
4. Yaacov Ehrlich, A Different Type of "Extreme" Settler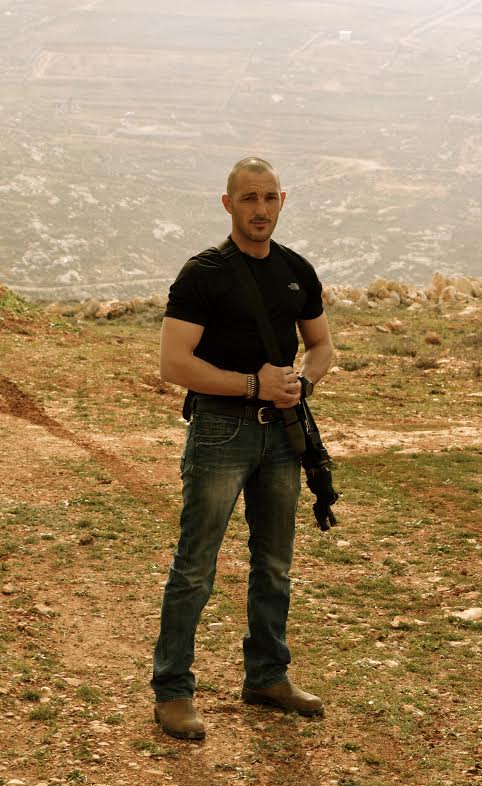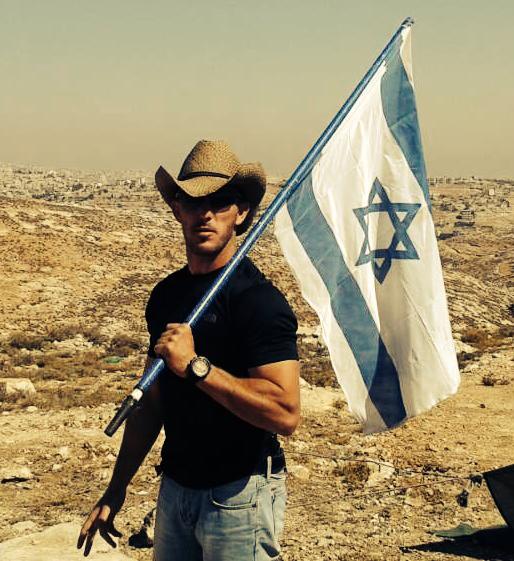 Yaacov Ehrlich is a good man to have around. Having made aliyah with his parents at the tender age of 6 to Efrat, Gush Etzion, this modern hero began his service in the IDF in the elite Sayeret Golani unit and was later trained as a sharpshooter where his prowess was so hot that the IDF used him on special missions with different brigades. He finished his IDF service as the right hand to the regional division commander of Gush Etzion – and as the husband to one lucky lady. Thereupon he enlisted into one of the top security personnel courses in the country and served in homeland security service on the Israeli-Jordanian border, during which he sustained a severe injury. But that didn't stop him from fulfilling his passion of exploring and sharing the beauties of the land. Yaacov became an "extreme" sports tour guide, shooting instructor and rappelling instructor and eventually became the head of security of Efrat. For his work protecting the city that raised him, Yaacov was named "Yehuda and Shomron's Most Valued Ravshatz (Head of Security)."
5. Adam Halley, For the Love of the Land and Motorcycles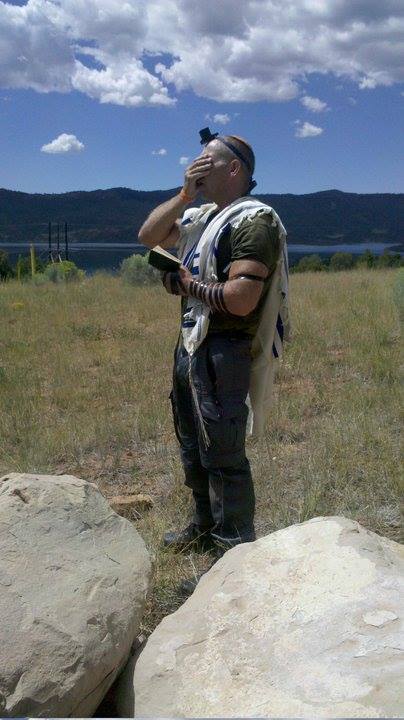 Tired of being a spectator rather than a participant in modern Jewish history, Adam made aliyah from the US to Israel right out of high school. And participate he does! When he's not fighting as an IDF Reserve Captain in a Counter Terrorism Unit, he's helping troops on the front lines. During Operation Protective Edge, Adam drafted himself into the IDF Pizza Campaign and single-handedly raised funds on Facebook to deliver over 750 pizzas to the troops. An avid motorcyclist, this sexy settler took his then 18 year-old son on an "IDF Motorcycle Legacy Tour" from Israel to the USA, covering over 6,500 miles on two motorcycles, stopping to speak to groups about Israel, the IDF and life in a settlement. Adam documented the trip on his Youtube channel, blog and Facebook pages, where he has drawn over 5 million fans collectively. He lives with his beautiful wife and children in Ginot Shomron in Samaria.
6. Josh Hasten, Communicating With Pride
Josh Hasten's signature look is the dome of a kippah slipping over the front part of his forehead, just above his bright green, intense eyes that reveal his passion, sense of purpose, and intellectual curiosity. Hailing from Indianapolis and living now in Elazar in Gush Etzion, Hasten is a master communicator. As host of the "Josh Hasten Show" on the Voice of Israel, he powerfully communicates the moral justness of Israel and the settlements through in-depth, entertaining interviews. But what makes him special as a host is not just his deep, sexy voice but his sincere interest in what people of all walks of the world have to say. This former journalist has also written a children's book, "Itamar Makes Friends: A Children's Story of Jewish Brotherhood," and, to ensure his brothers and sisters are safe from the rise of Islamic terrorist attacks in Jerusalem, he recently purchased a gun. (He's still practicing how to use it, so don't tell the would-be terrorists that he's really a kind, nice person.)
7. Shmuel Cooper, The Strong and Sensitive Type
A mixed breed of Oregon, USA and London, England, Shmuel made aliyah with his family at the age of six landing in Moshav Modiin and in 1985, he moved to Gush Etzion in the Judean Hills and never looked back. Shmuel served in the Etzion Brigade while the base was still in Beit Lechem, and devoted to the core, he is presently an officer platoon leader in the reserves for the YAKAP 156 unit, in charge of the heart wrenching task of identifying our fallen heroes and implementing fingerprint analysis, hi-tech and low-tech measures. A most difficult job to say the least, but he fulfils this task with sensitivity and a loving devotion to his country. "I go where they send me," is his credo. Yes, Shmuel, and surely the big guns in the IDF know who they can count on! Shmuel's celebrity smile is recognized far and wide in the large city of Efrat, as he manages the Access Credit branch in the city's commercial center. But, ladies, you'll have to admire his dashing smile from afar! This one is taken. A devoted husband to his wife, Leora, he is also the loving father of six children, two of which are presently serving in the IDF.

Editor's note: this list has been slightly modified from the original.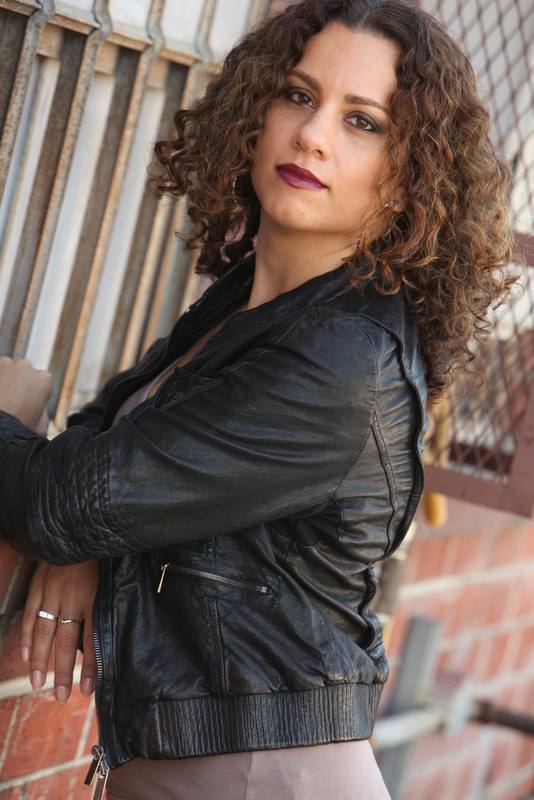 Orit Arfa, a former resident of Ariel, realized the hotness of Israeli settlers when she first visited Beit El in 2005. She has followed them ever since, culminating in a novel about the settlers of Gaza, "The Settler," which follows the transformation of a sexy Gush Katif female settler into a Tel Aviv nightlife queen. Visit her website: www.oritarfa.net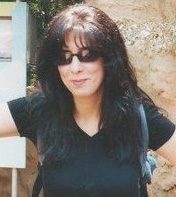 Zahava Englard is author of "The Gilboa Iris" published by Gefen and "Settling for More: From Jersey to Judea" published by Devora. Her favorite quote is: "If it's not controversial, why bother?" (Yes, the quote is her own.) She is a mother of four grown kids, with two of her settler sons having proudly served in IDF combat. She is a single mother (a hot one, of course) who lives in the Judean Hills.