Australian office supply retailer, "Typo", operated by parent company Cotton:On is selling a globe with a rather peculiar error.
Due to its diminutive size, the globe has represented Israel as a number "2".
But look what word the globe did have room for: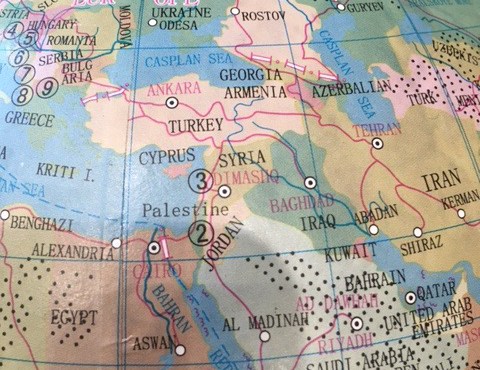 Aside from the fact that "Palestine" has more letters than "Israel" and therefore harder to fit it over such a small space, it also doesn't exist.
A concerned Facebook reader, Sharon Kuper wrote to Typo:
The response she received from Typo explained that there was no intention of political statement and is seeking a resolution to the issue.
According to Cotton:On, despite the Facebook response, the issue was reviewed and in conclusion, the globe is still deemed "accurate for commercial purposes" and existing editions will not be recalled. They did however state that future production will be revised.
According to an inquiry by The Australian Jewish News, 2 questions remain unanswered.
If the company's explanation to moving Israel to the key is "scale of design", why was there enough room to write "Palestine"?
Who is the supplier of the map and who certified it?
The globe is still on sale in their web store.
When things like this happen, it is never an accident. Somebody has to willfully remove "Israel" and replace it with a country that doesn't exist. We have seen this happen on airlines. Make no mistake, whoever made this map is making a political statement.
We are pleased that Typo is making an effort to fast-track new editions, but selling these existing globes in their current form is not acceptable.
We will be happy to see "Palestine" on a map in the future if and when it becomes a state via an agreement with the Israel and the rest of the world. Not before.
UPDATE: Store to remove existing erroneous globes from the shelves
Typo has responded to Facebook user Marcus Siegel as follows:
"Thank you both for your feedback on our globes. We never intended to offend anyone with this product and we are uninterested with any political commentary. We take on board your concern that some countries are represented in a key, and as a result we have decided to remove the globes from sale instore and online and will halt all future production until our supplier can provide artwork that eliminates the need for a key entirely. If you have any further enquiries please send us your contact details and our team will be in touch. Thanks,
Team Typo."
It doesn't say explicitly that the new version will say, "Israel" and remove the non-geographic entity of "Palestine", rather it only refers to the removal of the key, but we hope they will correct the labeling as to not "wipe Israel off the map."
I can totally accept that a normal functioning business should be uninterested in political commentary. But sometimes a product sneaks in that does the business harm. We thank Typo for their quick action.