Palestinian Professor Who Led Auschwitz Trip Caught Justifying Terror
Mohammed S. Dajani Daoudi is a palestinian professor, who became well known a few years ago when he took students from the palestinian territories to visit Auschwitz-Birkenau.
Mohammed S. Dajani Daoudi is an unlikely advocate for peace between Palestinians and Israelis. He trained as a guerrilla with the Palestine Liberation Organization, was banned from Israel for 25 years because of his prominent role in Yasir Arafat's Fatah group, and still refers to Israelis as "my enemy."

But Mr. Dajani, now the library director and a professor of American studies at Al-Quds University, in East Jerusalem, has become a prominent activist for tolerance.

In 2007, he founded Wasatia ("moderation" in Arabic), a group that promotes the Muslim tradition of compromise and nonviolence. His chosen path has already led him to a lonely stand opposing an academic boycott of Israel supported by most of his Palestinian peers. Recently, he traveled into further isolation by leading an effort to teach Palestinians at universities in the West Bank about the Holocaust, which is not part of the curriculum in Palestinian schools. In addition to a series of seminars on the topic, in March he took what is thought to have been the first group of students from the Palestinian territories to visit the Auschwitz-Birkenau State Museum, in Poland.

Referring to the trip, Mr. Dajani said in an interview, "It helped emphasize the human story of the Holocaust, to study the meaning of the historical narrative as related to our conflict, to heighten empathy, awareness, and sensitivity."
In addition to being denounced as a traitor and collaborator with Israel, Daoudi had his car torched. But to many Israelis and decent people, he was seen as a hero.
So it comes as a huge disappointment to discover that Mr Daoudi is not all he's cracked up to be.
Following the brutal murder of 13-year-old Hallel Yaffa Ariel, Muslim Zionist Noor Dahri posted the following:
This is how Mohammed S. Dajani Daoudi responded.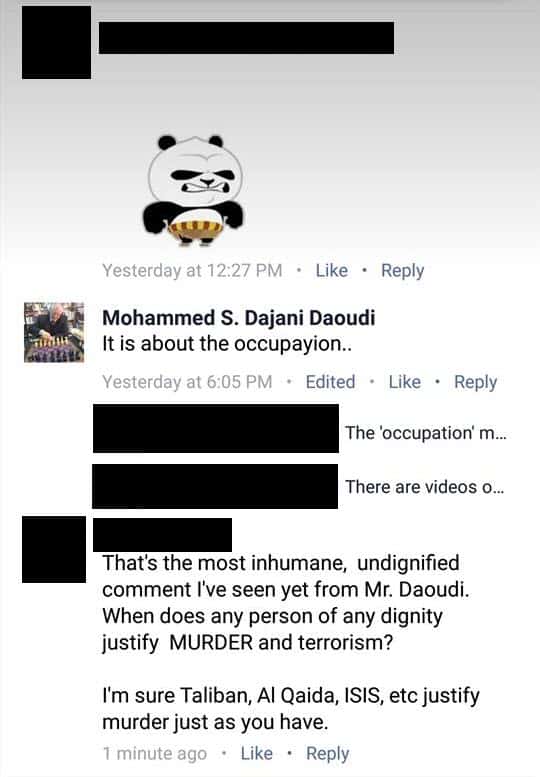 A 13-year-old girl is murdered and this man put forward as an advocate of peace, non-violence, tolerance and understanding justifies it on the grounds of "occupation."
And in case you think this is a one-off misunderstanding, this is what he posted not long after the terror attack.
https://www.facebook.com/permalink.php?story_fbid=1123702887695750&id=100001681474281
And here he is exalting Arafat and Hitler's buddy the Mufti of Jerusalem, Mohammed Amin al-Husseini.
https://www.facebook.com/permalink.php?story_fbid=1128631447202894&id=100001681474281
Disappointing does not fully describe it.