Saudi Arabia – The World's New Feminist Superpower?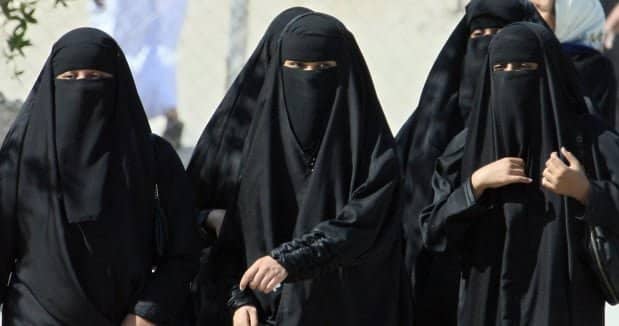 The rights of women have rarely been in better hands. Feminist Superpowers like Saudi Arabia, Iraq and Turkmenistan have been elected to the UN Women's Right Commission. The Saudi historian Hamid Smoked al-Weed claims that Prophet Muhammed was the world's first champion of women's right. According to secret documents discovered at the Royal Afghan Islamist Library of Tora Bora, the Prophet loved women so much that he started collecting them since he couldn't make up his mind whom to marry.
The Saudi female empowerment minister, Mr. Mohammed Chauvinist Halal-Pig welcomed the UN's decision and instructed all Saudi women to wear smileys on their burkas. He takes his job seriously and promises to allow female camels to drive by 2030, accompanied by male anti-Zionist goats. Time moves with a gentler pace in the Saudi desert kingdom but the minister did not exclude the possibility that female humans might be allowed to drive before 2200, accompanied by male dinosaurs. Female humans who are impatient are always welcome to undergo a gender change surgery or dress up as camels.
Saudi courts embrace Valentine's Day as an opportunity for "spoiled Saudi women to pamper their hardworking and oppressed husbands." The Saudi female empowerment minister believes that in the name of gender equality, Saudi men should be in the spot light at least 365 days per year. Needless to say, the rest of the year will be exclusively devoted to women.
Sweden's feminist foreign minister Wallström who enjoys Harrods shopping financed by the Saudis, praised Saudi Arabia and blamed the "Zionist occupation" for the Taliban's mistreatment of transgender mountain gorillas. According to the Swedish foreign minister's script, which was kindly donated by the government of the Islamic Republic of Iran, Jewish homes in Judea and Samaria is the main obstacle to turning the Middle East into a paradise for women, gays and minorities. Iran's first and last openly gay minister was unfortunately unavailable for an interview since he fell sadly during a work related accident from a pink crane in the center of Teheran.
Iraq, which is controlled by Iran's "progressive" Don Juan regime, will arrange a Miss Donkey Burka Beauty completion. However, there will be a break for commercials during the daringly furry burkini competition. Iraq vows to send a female dinosaur astronaut to space before 2100. Iraq stresses the importance of science and does not rule out the possibility to establish a harem on the moon in the future.
Mr. Borat, Kazakhstan's new Feminism Minister who has 17 children with four wives, promised to fight global male chauvinism, which he blames on the "Zionist occupation of US and A". Mr. Borat admits that he is relatively inexperienced in his job. Thankfully, he will receive plenty of guidance and expertise from the neighboring republic of Turkmenistan, which is known for its proud feminist tradition and the custom to treat men and women equally bad.
PA stand-up comedian Abbas threatens to launch a Bikinifada unless Hamas officials start waxing their legs.
Saudi Arabia condemns Israel's female combat soldiers as "dangerous weapons of mass distraction" and a "threat to world appeasement".