Well-Known Leftist Slams Latest Banksy Poster As Antisemitic
Well-known Israel-hating artist Banksy has upped the ante – or should that be antisemitism – with his latest creation.
Besides the lies involved, this art (with a silent "f") goes beyond mere anti-Israel propaganda. By suggesting all of the Jewish state is illegitimate and should not exist, it is antisemitic.
But don't take my word for it; see what leftist Israeli Batia Ofer (wife of London-based Israeli billionaire Idan Ofer) has to say.
Did I mention Batia Ofer is a leftist?
"We are very pro-peace. But having said that – I will stand up for our right to exist when people try to incite against us," Batia Ofer told Haaretz in an email exchange.

—
It was no surprise that the Palestine stand, one of the smallest at the trade show, was the place-to-be when the event opened Tuesday – with hundreds of travel agents and other travel professionals in line to get a glimpse of the mysterious artist's latest work.

None of this bothered Ofer, who says she is all for tourism to the West Bank and supports some Palestinian causes, among them a yearly fellowship she and her husband set up for two Palestinian students (along with two Israeli ones) to attend the Harvard Kennedy School.
I'd also add one more thing: the poster is a spoof of the old Palestine posters like this: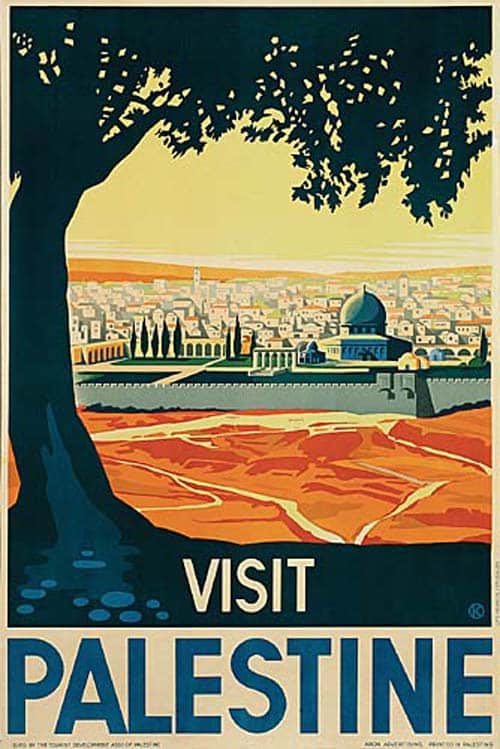 It was created by Jewish Zionist Franz Kraus as a Zionist endeavor.
So besides an antisemite, Banksy is a dumbass.
Of course, the two usually go hand-in-hand.