Palestinian Propaganda Site "Yada Yada's" Terror Attack
Anti-Israel propaganda site Quds News Network have just posted this: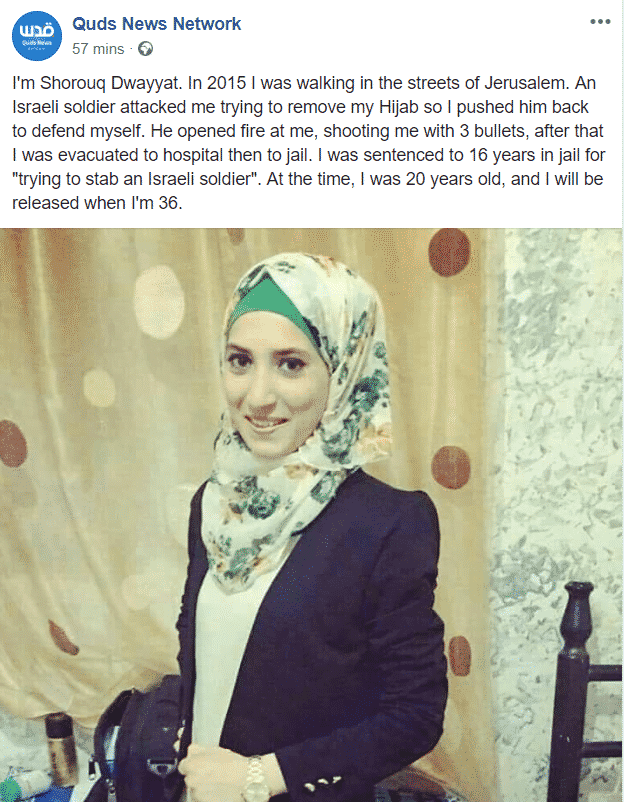 As you can imagine, they Yada Yada'd some relevant details:
A Palestinian teenager who stabbed an Israeli man in a terror attack in Jerusalem a year ago was sentenced Sunday to 16 years in prison.

Shorouq Dwayyat was sentenced by the Jerusalem District Court, the Palestinian Ma'an news agency reported. She was found guilty in September of stabbing one man in Jerusalem's Old City and attempting to stab another during the October 7, 2015 terror attack.

—

Dwayyat, who was 18 at the time of the attack, wrote on Facebook of her desire to die as a "martyr." She left her home in the East Jerusalem Tsur Baher neighborhood with a kitchen knife, telling her mother that she wished to pray at the al-Aqsa Mosque on the Temple Mount before going to her university classes at Bethlehem University.

Just inside the entrance to the Old City, she spotted two Jewish men, and stabbed one of them — Daniel Rosenfeld — in the shoulder and head, according to Israeli media reports. She then tried to stab the second, Zvi Greenspan, but was shot by Rosenfeld and evacuated in critical condition to Jerusalem's Hadassah Hospital Ein Kerem. Rosenfeld was moderately wounded in the attack.

Dwayyat previously wrote several posts on Facebook of her desire to die as a "martyr" for the Palestinian cause. In a Facebook post immediately before she carried out the attack, Dwayyat told her mother not to mourn for her. She wrote:

"Mother: Where are you going?
Mother, I am going to become a 'shahid' [martyr] Mother, I want to ask a request of you
Don't cry about me, when I become a shahid
#Our greatest desire is to become shadids for Allah"

In an interview with Channel 2 last year, Dwayyat's mother claimed her daughter stabbed the Israeli in self-defense after he attempted to pull off her head covering. She said Shorouq had told her she was going to pray at the al-Aqsa Mosque before going to Bethlehem for classes. She was apparently unaware of her daughter's Facebook posts.

The stabbing occurred at the peak of a wave of Palestinian terrorist attacks.
Remember, when a palestinian site reports anything, question everything. Nine times out of ten, it will be an outright lie, at best a partial truth.