Last week, I posted the trailer for the new Chris Evans movie The Red Sea Diving Resort, about one of the Mossad's most daring operations, and based on a true story.
Some eagle-eyed people (not me) noticed something in the very first scene of the trailer: if you look at the Hebrew certificates behind Chris Evans' character, you can see the Hebrew words are in the wrong order; on the bottom right, it says Yisrael Medinat or "Israel the State of", and on the top left it says Barak Captain instead of Captain Barak.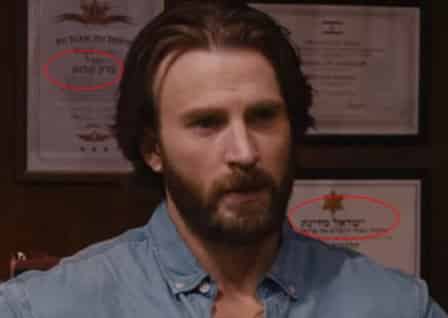 There is no getting things past some people (not the same 'some people' to which Ilhan Omar was referring).
Clearly, despite the fact the film was directed by Israeli Gideon Raff and would have had a Hebrew advisor on location, the set designer or someone else seems to have just entered each word separately into Google Translate (not knowing Hebrew goes from left to right) and presto!
By the way "Barak" is an Israeli name and means "lightning." I can't help but think that they chose this name deliberately as a nod to Even's iconic Captain America character, who happens to have worked alongside Thor, the god of thunder.
Hat tip: Shawn
Please help ensure Israellycool can keep going,
by donating one time or monthly