Insanely Popular Facebook Group 'View From My Window' Responds to Hate Comments Against Israelis By Punishing Israelis
Update: It seems the group admins have reversed their policy, as described below. I welcome their decision. Read on to see what the issue was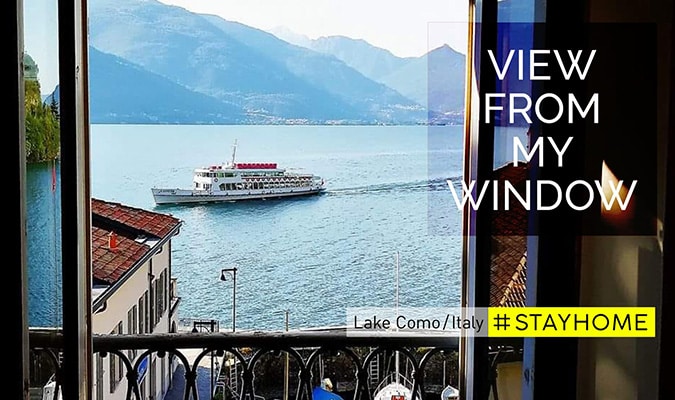 View From My Window is a Facebook group that began just over a month ago, and already has over 1.7 million members. Borne out of the coronavirus, it was created to connect people from all over the world during these tough times. and to encourage people to stay home.
The premise is simple: members take a photo from a window where they are living during lock-down, thus sharing the atmosphere of their daily life and, in some cases, stunning scenery.
Such is the success of this group that Better Homes & Gardens recent did a piece on it, which included this sentence:
Anyone can be a part of the group, as long as you agree to the rules, which include a zero-tolerance for hateful speech and bullying.
About that…
Reader Johnny contacted me, telling me she joined the group on April 8th, and spent much time perusing the photos and engaging with people in the comments to the photos. She noticed that when people posted their views from Israel – there were dozens of such photos every few days – those posts were inundated with hate comments, predominantly from people in Arab and Muslim countries. While the comments would be deleted, the offending commenters were not banned from the group.
In contrast, when palestinians posted their views – which occurred way less frequently –  there were no hateful comments. Israelis would even greet these palestinians in the comments to these posts.
As a result of the barrage of anti-Israel and antisemitic comments, one of the page administrators posted the following announcement on April 18th
Apparently this warning did not deter the haters, leading the same admin to post this message later the same day:
While I can no longer find this message, if you go to any recent posts from Israel, sure enough, the ability to comment has been disabled.
In other words, the response to hate comments against Israelis has been to remove the ability of anyone to comment on posts from Israelis (or palestinians, who were not even subjected to any hate comments). This saves the admins having to remove the hateful comments and ban the commenters, as confirmed by a chat between the same admin and Johnny: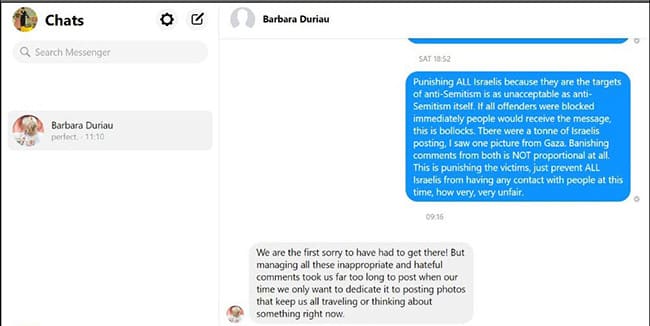 Johnny, as well as many other Jewish and Israeli group members, are upset, and understandably so. The group was providing Israelis with an opportunity to not only post their photos but also, importantly, to engage with people from around the world. Removing the ability to comment under posts from Israel has deprived Israelis of this opportunity to engage with others about life in Israel during these difficult times.
So much for "connecting people from all around the world during these tough times" and "zero-tolerance for hateful speech and bullying."
While I do understand how a group admin could be fed up with so many hate comments, their response is unfair. In some ways, it reminds me of the world's general response to terrorism against Israelis, which has been to reward the terrorism by demanding more concessions from Israel. In that case, the victims are being punished, which is what is happening here too – the victims, again, being Israelis.
I have joined the group and will be contacting the admin, asking she open comments again and instead remove hateful comments and ban those responsible. I will add the suggestion that she take on more admins to help with that workload.
Because giving in to hate and punishing the victim is never ok.