Whatever Happened To (Israel-Haters Edition): Carey Wedler
Back in 2014, a young lady called Carey Wedler came out with a video called "How I became a "self-hating Jew."
It would almost hard to tell which was more terrible: The extent of the lies she was spouting or her actual delivery.
Almost seven years later, and I decided to see what she is up to these days. Is she still doing videos? Is she still hating on Israel? Is her delivery still terrible?
On her Facebook, she describes herself as a yoga instructor (I cannot imagine this girl being relaxed). But she is also still doing videos and has a large following: 60.1K YouTube subscribers, 35.4K Instagram followers, 7K Facebook followers, and 3K Twitter followers.
I will give her this: she has improved her delivery.
As for her views, she is anti-government
an anarchist
and fan of Ron Paul.
And yes, she still is an Israel-hater.
So naturally…
She still seems to be a really confused girl.
On one hand, she says she is banned from Twitter
on the other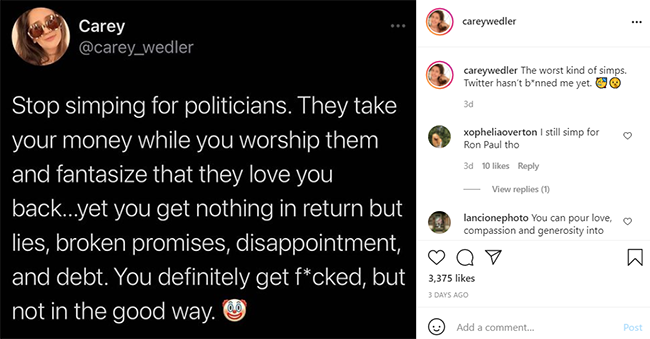 On one hand, she says she hardly posts on Facebook

on the other, she actually does.
As I said, she seems confused.
So the verdict is in: Carey Wedler has not changed (but she has improved her delivery).