Haters Attack Helen Mirren For Playing Golda Meir
Last week, I posted this photo of the fabulous Dame Helen Mirren as Golda Meir, a role she is playing in an upcoming biopic. The photo provoked a very different reaction from the Israel-haters: of the predictable, unhinged variety.
Dame Helen Mirren has been subjected to a torrent of abuse for appearing as Israel's only female leader in a forthcoming biopic.

Internet trolls branded the Oscar-winning actress 'racist' and described her as a 'well known Zionist and Israel-worshipper' after taking on the role of wartime prime minister Golda Meir.

The film, Golda, is set during the Yom Kippur War in 1973 when Arab states attacked Israel.

Dame Helen described Meir as 'a formidable, intransigent and powerful leader' and said it was 'a great challenge to portray her at the most difficult moment of her extraordinary life'.

But critics on social media described the production as 'fascism', 'sick' and 'tasteless'.

One Twitter user, who said they were 'Palestinian and proud', wrote: 'How sick making a biopic on criminal Golda Meir and yes no surprise Helen Mirren the racist is happy to portray the pure distorted version of a disgusting individual.'

Another wrote: 'Helen Mirren doing a film about the first female prime minister of Israel is a slap in the face to all the people of Palestine, they are literally celebrating taking over Palestine and taking families out of their homes, murdering children, families! Tasteless film!'

One social-media user said it was 'hugely disappointing that Helen Mirren is volunteering for this role', while another wrote: 'More fascism to show how "wonderful" Israel is.'

Born in Ukraine in 1898 before moving to the US as a child, Meir made history in 1969 as Israel's first female prime minister.

She soon provoked international controversy, saying: 'There were no such thing as Palestinians.'

—

Dame Helen has faced criticism in the past for saying that she was a 'believer' in Israel and that she rejected calls to boycott the country.
Note how the Daily Mail euphemistically calls these people "critics", as if they have a point and are not consumed with hatred.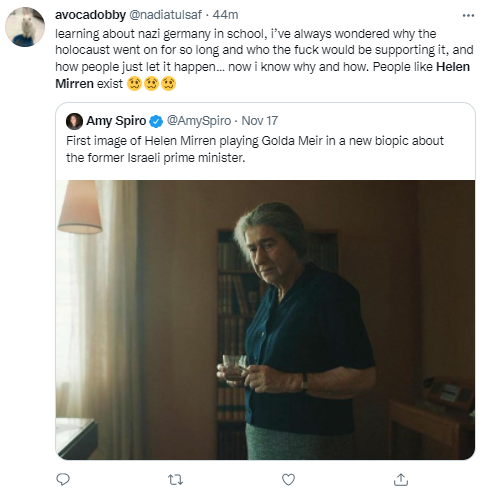 And it is almost as if the Daily Mail agrees with these "critics," mentioning that Golda once said "There were no such thing as Palestinians." She didn't, and my next post delves deeper into this libel.