Anna Rajagopal Falsely Claims Stop Antisemitism's Liora Rez 'Stormed the Capital'
Yesterday, antisemitism watchdog Stop Antisemitism declared Anna Rajagopal their "Antisemite of the week."
The evidence included this zinger from her, which I posted about in March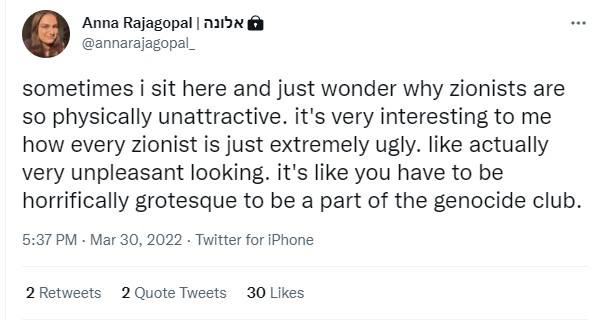 as well as many more vile tweets.
Rajagopal has not been happy about this designation and responded by alleging Stop Antisemitism's Executive Director Liora Rez was one of the Capital Rioters:
When asked for evidence to support this damning accusation, Rajagopal did not respond, but someone else called Teddy Salad did:
Since Rajagopal seemed to agree with what was tweeted, one can assume this was her "proof" as well.
Liora's Instagram account name is "Jewish_Chick," so this seems to be why the above Twitter user named Jewish Chick was mistaken for her. But if you look at the Twitter user's photo and compare it with Liora's, you'd have to be blind to mistake the two of them for the same person: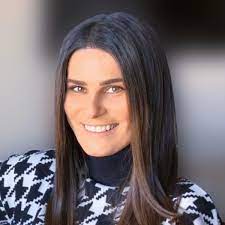 Then again, Rajagopal says Zionists are "extremely ugly" and
so she might just be blind after all.
For the record:
Rajagopal is threatening to sue Stop Antisemitism
but I would suggest it is Rajagopal who should be worried about being sued for libel.
Update: The Twitter user Teddy Salad, who posted the "proof" of 'Liora's storming the Capital,' has now deleted their Twitter account, likely afraid of being sued for this libel.
Update: I suggest Rajagopal looks up the meaning of the word "slander":