Mohammed El Kurd Reminds Everyone He Hates Jews and the Only Good Jews Are Dead Ones
Mohammed El Kurd might be the darling of many especially on the Left, including the US college circuit where he earns big bucks, the Nation where he is a contributor, and even the UN. But this does not make him any less of an antisemitic terror supporter. In fact, given his large "fan" base, I posit it makes him feel even less inhibited in expressing some of the vilest views.
Case in point: He recently posted the following on his Instagram story (hat tip: Stop Antisemitism):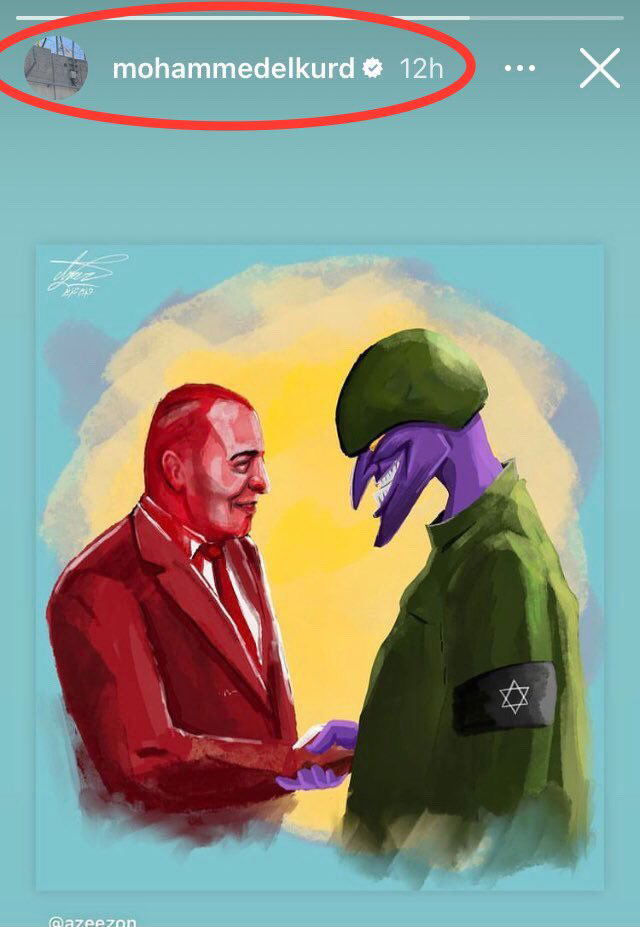 Notice how the Jewish soldier is portrayed a large nosed, demonic creature looking devious as he enters into some kind of deal (I am not entirely sure who the other gentleman is meant to be). This would not look out of place in Der Stürmer.
But El Kurd did not stop there. He also retweeted the following, showing he views Israeli citizens as legitimate targets of terrorism.

By the way, here is more on the civilian shooting a palestinian in Jerusalem, referenced in the tweet:
"When I look back at the scene, I feel as if I was there alone. It felt like my calling."

These were the words of Ynet photographer Meshi Ben Ami who shot and neutralized a Palestinian terrorist attacking a passenger on a bus in Jerusalem Tuesday evening.

"I was driving from the Ramot neighborhood toward downtown when I spotted a man lying on top of another and stabbing him," said the lensman.

"I realized this was a stabbing attack. I was a little hesitant at first, but when I saw people running, I had to act. I pulled out my weapon and started running in his direction. He got off the victim and I saw someone throwing a rock at him.

Then, he approached me, holding the same object he used to stab the victim. It was a screwdriver. He approached me, and I ordered him to halt. He didn't stop and stood feet from me. I felt threatened, I felt my life was in danger, and then I neutralized him."
Anyone supporting or amplifying this evil person has a lot to answer for – and cannot claim to be "only" anti-Zionist.