Jew-Hater Suhair Nafal's Latest Example of Outright Dishonesty
Remember the palestinian-Arab centric show on Netflix called Mo, which I actually thought was decent?
Jew-hater Suhair Nafal has posted that it will not be renewed for a third season, and seems to be implying there are nefarious reasons behind the decision: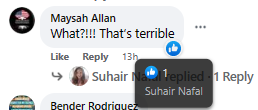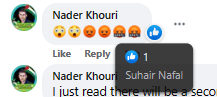 She clearly does not seem happy about it, as evidenced not just by the "Who's next?" in her post, but her 'liking' comments expressing upset over the decision.
Of course, Nafal, being the dishonest hater that she is, wants her followers to forget that she absolutely hated the show, saying it had "bad acting", an "uninteresting storyline", and was "not funny in the slightest":
which is probably why she deleted the comment (shame for screenshots, ehh, Suhair?)
In other words, she probably would have cancelled it herself!
And some of her followers even suggested the show was bad because of you-know-who:

Yet here is Suhair now implying that we had the show cancelled, presumably because it revolved around a palestinian Arab.
She truly is a shameless liar – and seems to have a very low opinion of her own followers.