Proof The Ahed Tamimi Instagram Account Was Not Fake As Claimed By Her Family
Madrid Diary, CC BY 4.0, via Wikimedia Commons
Yesterday I posted about "Shirley Temper" Ahed Tamimi's arrest for incitement, over her Instagram post in which she wrote "Our message to the settlers – we are waiting for you in every city of the West Bank, from Hebron to Jenin. We will slit your throats, and you will say that what Hitler did to you was a joke. We'll drink your blood and eat your skulls. Come on, we'll wait for you."
I also mentioned how her mother denied it was her Instagram account, claiming instead it was fake.
Now the mainstream media seems to be giving credence to this idea of a fake account, with Sky News reporting the story with the headline Prominent Palestinian protester Ahed Tamimi detained by Israeli troops over 'fake' Instagram post.
However, Ms Tamimi's family said she does not have an Instagram account and the post was a fake.

The post is no longer visible online, nor is the account carrying Ms Tamimi's name and photo where it was published last week.

She said Israeli forces had accused Ms Tamimi of "calling for the killing of settlers and saying what Hitler did wasn't enough – but Ahed does not have an Instagram account".

Supporters have claimed the online post was an excuse to arrest the activist and crackdown on dissent while the world is distracted by the conflict in Gaza.
In my previous posts, I had linked to a Twitter thread showing the account was likely really hers. I will now include this evidence here, and add some additional things.
The ahed_tamimi15 Instagram account had almost 94k followers
The offending post appeared in an Instagram story of the ahed_tamimi15 account. Here is what it looked like before it was taken offline: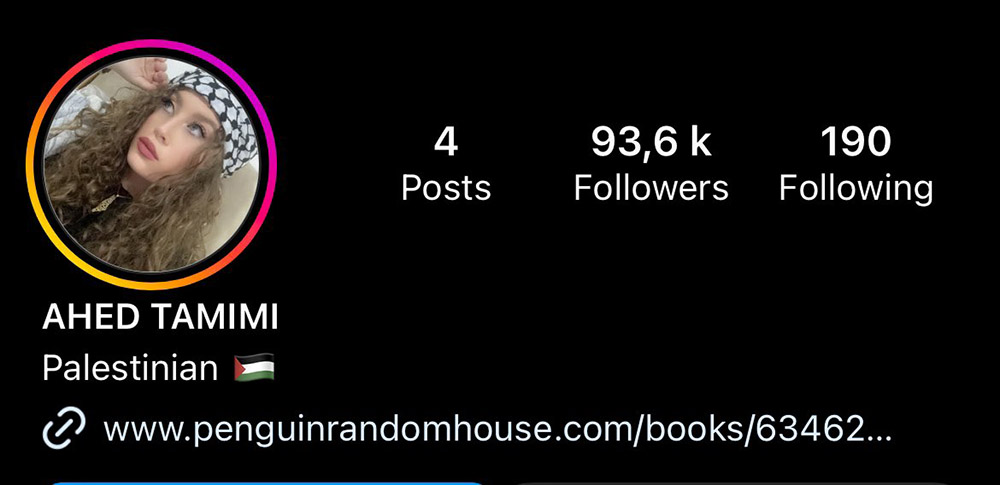 As you can see, it had almost 94K followers, a huge number of followers, which is especially unlikely for a fake account totally not related to the real Ahed Tamimi.
The ahed_tamimi15 account had personal posts
The account posted a photo of Tamimi's memoir with a caption suggesting it was posted by the real Ahed Tamimi: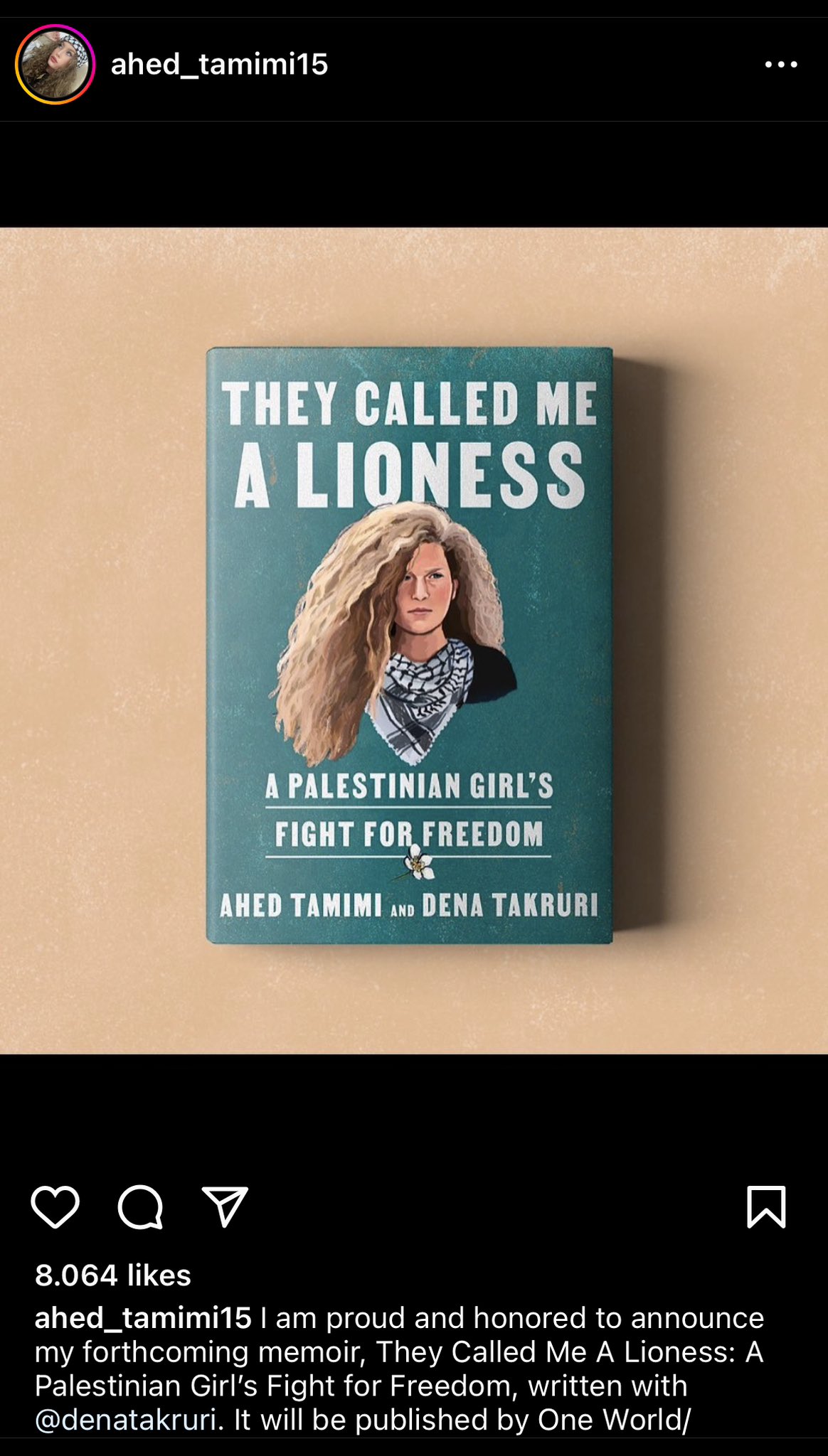 Anti-Israel friends and allies tagged the ahed_tamimi15 account
The post about Tamimi's memoir contained a tag of the co-author Dena Takruri, who herself posted about the book and tagged the ahed_tamimi15 account:
Takruri had also tagged the same account elsewhere: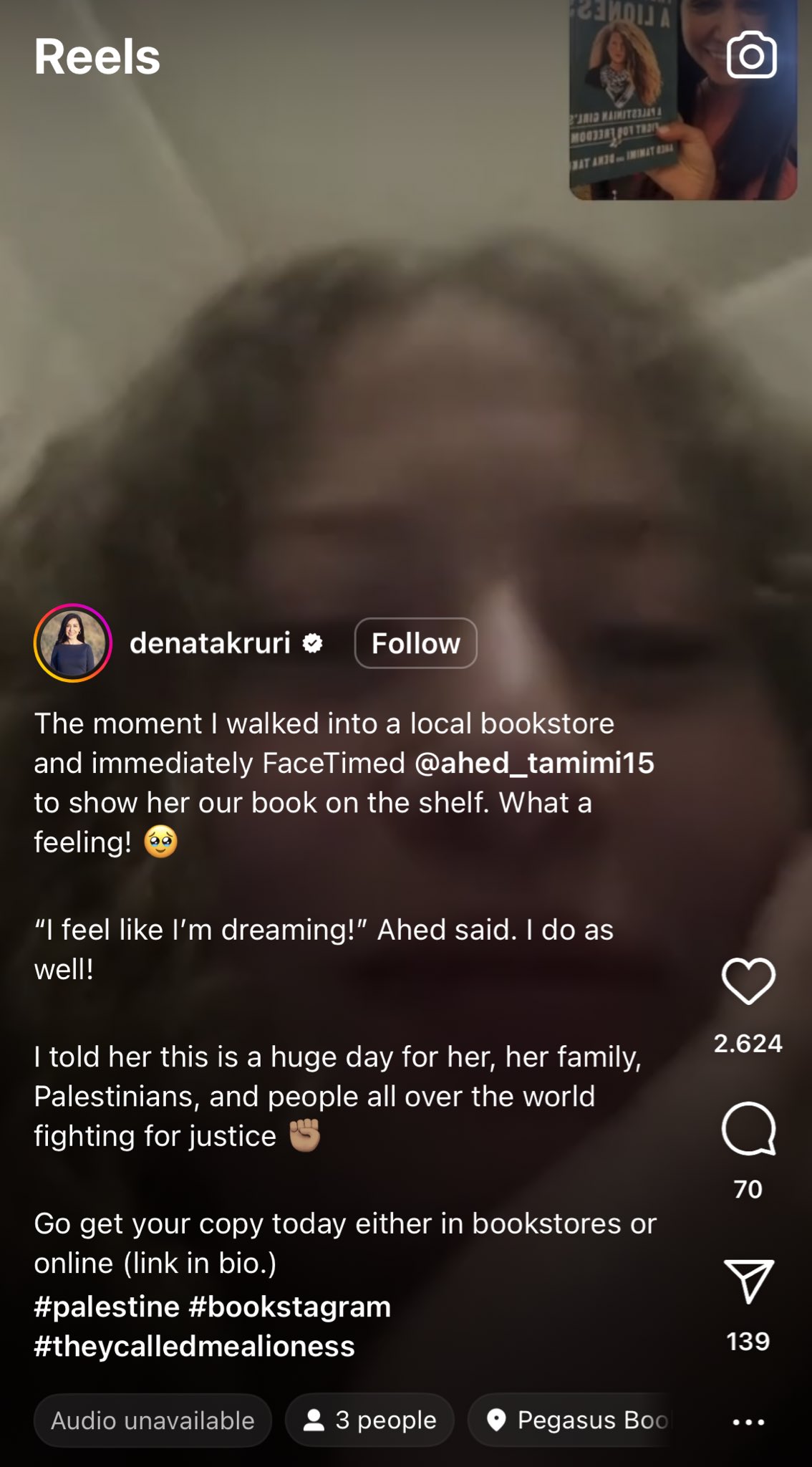 And Takruri was not the only friend or ally to tag this account.
Given Tamimi was friends or acquaintances in real life with some of these people, it is doubtful they tagged a fake account.
The vile threatening comments are not out of character for Ahed Tamimi
Tamimi is on record as supporting violence and terrorism against Israelis.