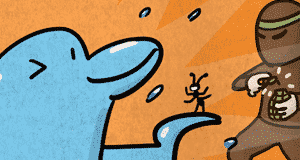 The greatest comic that never existed, featuring everyone's favourite Israeli spy dolphin.
Israel dispatches elite dolphin command squad to Gaza
So long and thanks for all the intelligence!
Reader Anne asks are these sharks "circling" the wagon to protect Israel, or are these American officials in disguise, searching for Israeli blood?