A few days ago, I posted this disturbing photo of a young Muslim boy in Australia.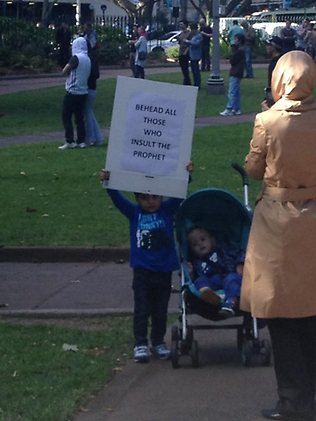 Now it has emerged this is just the tip of the iceberg.
Meanwhile, an MP
called for placard boy
to be removed from his parents (hat tip: Gaia).
Coalition MP George Christensen has suggested that the small child who held up a sign which read "behead all those who insult the prophet" during weekend protests should be put in the care of "better people".

The Queensland MP said that authorities should track down the parents of the child "immediately" – as they would when another child was exposed to "such a violent upbringing".
Not that it helped.
Yesterday, the mother whose young son held a sign calling for beheadings during Saturdays' Sydney protests turned herself in to police.

NSW Family and Community Services Minister Pru Goward says the boy will stay with his parents.

"The police went back to the house and assessed the children and assessed that they were safe so that is where they remain," Ms Goward told ABC radio.
And what is it with Australian Muslim leaders and really bad excuses?
Lebanese Muslim Association president Samier Dandan says while he welcomes the mother's decision to go to police, he disapproves of the behaviour.

"That's something that we don't encourage within our community, it's something we condemn," he told reporters at Lakemba mosque in Sydney's west this morning.

Mr Dandan said he would try to talk to the mother, but added he had been told the boy may have found the sign on the street and was "caught up in the hype" during the demonstrations.

"Does a child really understand what's written on that placard?" he said.
That's on a par with those people admitted to the emergency room who claim they slipped on the floor and that's how the bottle ended up there.