Remember Arab models Omar Borkan Al Gala and Ahmed Angel?
Well, it looks like they may have some competition, in the form of Hasidic Jew Yoel Weisshaus, a model for American Apparel.
Zoolandsman.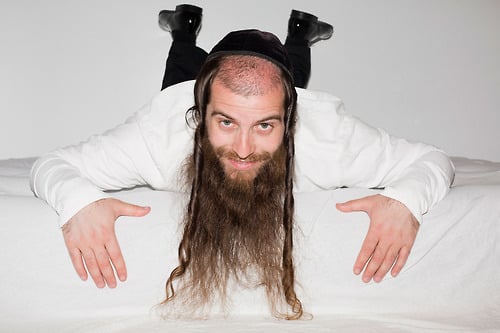 The Daily Beast has more:
If American Apparel is notorious for its hipster-next-door models, Yiddish-speaking Yoel Weisshaus is simply representing your quintessential Hasid next door.

Weisshaus is amused by the fascination that's sprung up since his modeling debut. The photos of him were published on Saturday, but fittingly, began gaining traction online Wednesday, the eve of Rosh Hashanah, the Jewish New Year.

The company's notoriously scandalous past advertisements seem to butt heads with the high value Judaism's most conservative sects put on modesty—a point Weisshaus isn't too concerned with. "Why would there be a conflict? It's just a photo." He acknowledges it's unusual to see a Hasidic man in an advertisement for a mainstream retailer, but says those marketing decisions have "nothing to do with me."

Weisshaus, who's dabbled in acting prior to this modeling turn, juggles side jobs to bring in extra income while he's a full-time student at Bergen Community College in New Jersey. A few months ago, the 32-year-old was told by a friend that American Apparel was seeking Hasidic models for a photo shoot, so he applied, went in for an interview, and scored the job. It wasn't just for money. The images combat the stereotypes of religious Jews, who value their insular communities, but also, he says, the typecast of the company's amateur models.

"Some people are complaining saying American Apparel always has only nude or sexually oriented models, and quite to the contrary—you can see the same thing on the nonsexual figure, just in regular dress," he says, He's enjoying pushing the envelope, in this case. "I like the controversy, I enjoy the conversation, I like to get people talking with this stuff going on." In fact, they didn't quite have enough time in the four-hour shoot last month to do all the outfits planned, and he would gladly go back to the studio for more. (A request for comment to the company went unanswered as of press time.)

Though the founder of American Apparel is Jewish—and even recently unveiled a black nail polish color called "Hassid"—the company has run into religious controversy before, after being sued by Woody Allen for using an image of him as an Orthodox Jew with Yiddish text reading "The High Rabbi." It was a move Weisshaus found much more humorous than offensive.
The Times of Israel has more, including this quote by Weisshaus:
"I've already been pretty out there," he tells The Times of Israel by phone. "I started getting requests and one thing led to another."
I wouldn't call him pretty.
But seriously, well done Yoel. I am not sure if you are breaking hearts, but you are surely breaking stereotypes.