The following two tabs change content below.
An Aussie immigrant to Israel, Aussie Dave is founder and managing editor of Israellycool, one of the world's most popular pro-Israel blogs (and the one you are currently reading) He is a happy family man, and a lover of steak, Australian sports and girlie drinks
Latest posts by Aussie Dave (see all)
Fellow pro-Israel blogger and former Israellycool contributor Elder of Ziyon is a poster boy for..posters.
One of his popular series is his Apartheid Israel series, which shows the ridiculousness of apartheid accusations levelled against Israel.
One of the posters of this series features former Miss Israel Rana Raslan. An Israeli Arab.
So effective is this poster in rebutting the apartheid accusations that the BDSholes and Israel haters took the time to create their own response.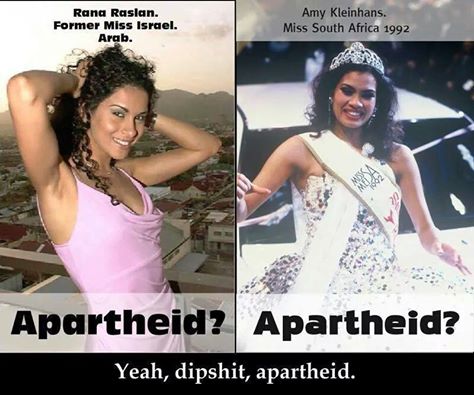 There's just one problem.
Amy Kleinhans was crowned Miss South Africa in 1992, the year following the repeal of South Africa's apartheid laws. It was the official end of apartheid that paved the way for her participation to begin with.
So the Amy Kleinhans poster actually reinforces the point about the Israel-Apartheid comparison being erroneous.
Who feels like a dipsh*t now? (hat tip: Cliff)